---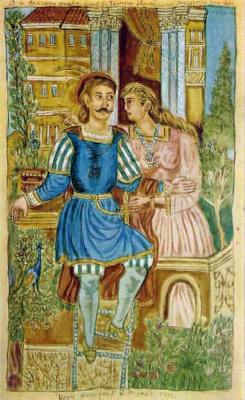 Erotokritos, by Vitsentzos Kornaros
Vitsentzos Kornaros (1553-1613/14) was a noble Cretan. He was born in Sitia and died in Kastro (Heraklion). Kornaros is a very strong presence in Greek letters. He exerted great influence with his language and his poetic art on all modern Greek literature. The first edition of the work of this most noble poet circulated in Venice in 1713.
The story takes place in Athens with King Herakles lives with his wife Artemis and their very beautiful daughter Aretousa, with whom the handsome and brave young man Erotokritos, son of the king's advisor, has fallen in love. After many difficulties and trials, the couple is married amidst celebrations and magnificent contests.
The world of this work is the ideal Greek world of friendship, pure feelings, authentic Greek traditions. It is the world of the beauty of Athens and Crete which is "the throne of virtue and the river of wisdom."
The language of this work is authentic Greek and Cretan, a synthesis and conscious effort of the poet to express lofty human feelings and values with simplicity, directness and truth.
Erotokritos has been characterized as a masterpiece of the Greek language which unites the magic of myth and a deep understanding of everyday life. It expresses the "threefold ideal which is bravery, beauty and wisdom." A work rooted deeply in authentic Greek traditions, humanity, true feeling and pure love for life and freedom.
---
Links
Sitia Area
Arts & Literature
---