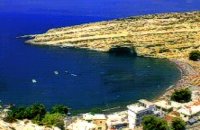 Matala village
Messara, South - West Iraklion
Matala (GR: Μάταλα) was the ancient port of Phaistos and Gortys and a former fishing community which has developed into a modern holiday center. It is located 4 km south-west of the village of Pitsidia and 75 km from Iraklion. It is built on the coast line of the Messara bay inside a small and picturesque inlet. During the 60's the caves of Matala were hosting a hippie commune.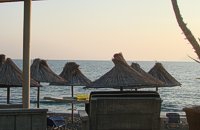 Kalamaki village & beach
Messara bay, Iraklion South
A small coastal village with a long sandy beach is becoming very popular with tourists due both its natural beauty and its proximity to Phaistos, Gortys and other important sites. There are quite few hotels, apartments etc and taverns, cafes by the beach.