Apodoulou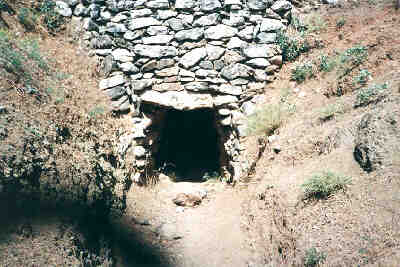 The vaulted Minoan tomb
The village of Apodoulou is located 55 km from Rethimno. It has dry, healthy climate and plenty of water. It is built at an altitude of 450m.
Archaeological excavations that where carried out at 1934, brought to light a large ceremonial building of the Middle-Minoan period. Among the findings where inscripted steatite vessels and a small golden axe.
A Late-Minoan vaulted tomb was also discovered 400 m north of the mansion. Its diameter is 3m, and inside it were found four sarcophagus, that today are exhibited in the Archaeological Museum of Rethimno.
---
© Interkriti 1996
This page is sponsored by the Municipality of Agia Galini