Sights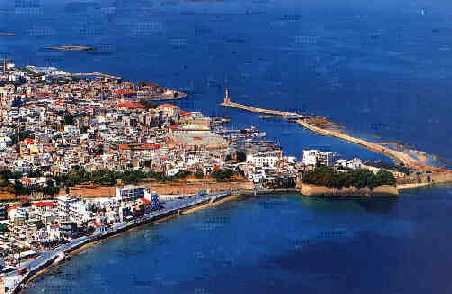 Hania is one of the nicest towns in Crete, with wonderful houses, parks and squares and a well designed town-plan. The Public Market is an impressive building, in the town center, built at the beginning of the present century (1911) and houses grocery stores, butchers' shops, a fish market and vegetable shops.The Public Gardens, next to the Market, are ideal for those in search of shade and tranquillity. Northeast of the gardens is the beautiful neighborhood of Chalepa where the residences of Prince George and Eleftherios Venizelos were.
The old city has preserved to a great extent the dinstictive atmosphere and charm of the Venetian and Turkish periods. Entire Venetian, Turkish and Jewish quarters are saved, with well preserved buildings in the narrow picturesque streets. One of the most significant buildings is the large Venetian church of Aghios Frankiskos which today houses the Archaeological Museum of Hania.
The old city leads at the harbor, where many Venetian and Turkish buildings are preserved. At the entrance of the harbor, at its northerst point, is the renovated fort "Firkas", built on 1629, that today houses the Maritime Museum of Hania as well as a summer theatre, where drama performances are presented.
Opposite the Firkas fort, is the magnificent Venetian lighthouse, built on the 16 century and restored by the Egyptians.