On the road from Hania to Kissamos, 14km away from Hania is the coastal settlement of Kato Gerani which extends from the Platanias bridge to the village Pirgos Psilonerou.

Awarded every year with the Blue Flag, the beach is organized and provide quite a lot facilities such as sundchairs, umbrellas, shower, W.C. and sea sports.
There are many big hotels offering all the amenities, as well as many small family ones which provide quiet and family environment. The visitor may choose from many alternatives covering all tastes.


Bars, taverns, car and bike rentals, travel agencies, shops, super-markets everything to make the visitors stay more comfortable.

It is worth to take a small walk to the villages of the area, and enjoy the unspoiled Cretan nature and hospitality. Pano Gerani, Modi, Loutraki, Manoliopoulo are all within a distance no longer than 10 kilometrs.

Away from the heavy traffic central road to the mainland through orange groves, tall cypresses, plane trees, and eucalyptus are scattered picturesque unspoiled villages, with the traditional cafes, small local "parliaments", serving the Greek coffee, refreshing "submarine" and of course raki.

Starting from Kato Gerani, the foundations of the first German cemetery, which was later moved to Maleme, are still visible. A little before Pano Gerani stands the monastery in a place called "Metohi Issihaki", and between the villages of Gerani and Modi an old half ruined house which used to be a school. A plaque on one of its walls reminds that here the renowned Cretan writer and journalist Ioannis Kondilakis started his career as a teacher.

At Kotsifiana, a location between Gerani and Manoliopoulo, is the small church of Panagia. A patronal feast is taking place here every year at September 8th and many people are gathering to celebrate.

Between Vrisses and Koufos, there is a characteristic two peaks hill, on the Western bank of Platanias river (the Homeric Iardanos river). The lowest peak, is called Kastelos, and the higher is Called Ag. Georgios, because of the small church on the top of the peak, dedicated to Saint George.

According to Pococke, the area was the Homeric Kydonia, concluding it by an Homeric verse.

There many remarkable places which are awaiting for you to explore and enjoy in combination with your unforgettable visit to the beach of Gerani.

THE VILLAGES
---
GERANI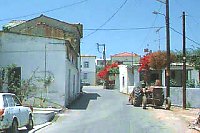 Gerani is located 14.5 km west of Hania. The local people call it Pano Gerani in order to distinguish it with the coastal settlement of Kato Gerani located one kilometer to the north.
The village is mentioned at the census of Fr Barozzi in 1577 but his history is believed that starts centuries ago while some (E.Lambrinakis) claim that here was the exact location of ancient Kydonia and that a temple of VRITOMARTIS used to be here.
A cruel battle took place at Gerani between the Turks and the Cretan revolutionists in 1867. Ioannis Papadogiorgakis the famous revolutionist (hainis) renowned as "GERANIOTIS" where born here in 1798.

MODI
Modi is a beautiful small village located 15km west of Hania at 80m a.s.l. near the village of Gerani. Ancient Cretan coins were found here depicting on one side the head of Zeus and on the other that of a bull with the inscription "MODAION" which means coin of the people of MODA or MODEA.
That make some to believe that an ancient city stood here with the above name which was maintained until today as Modi.
Many other findings tombs, weapons etc were unearthed to confirm the claims of the archaeologists.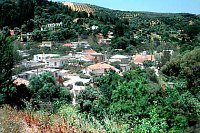 MANOLIOPOULO
20 km west of Hania at 120m a.s.l. Maniliopoulo is a picturesque village built among huge trees. It is the seat of the municipality of the same name and is firts mentioned at the egyptian census in 1834.

VRISSES
Vrisses a village located 16km from Hania, 4 km from the central road Hania Kissamos to the left. Seat of the municipality of Vrisses is mentioned since 1577.

LOUTRAKI
Loutraki is located 17 km away from Hania and 2km from Gerani at 70m a.s.l. with 150 permanent residents and is part of the municipality of Gerani. It is mentioned at the censusws since 1577.