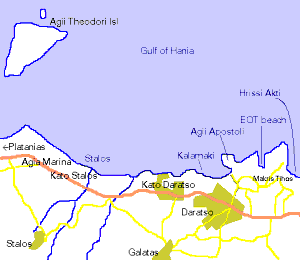 NEA KYDONIA
In less than ten minutes the visitor leaves the city of Hania behind and follows the seaside road through clean and beautiful beaches, olive and orange tree groves and an amazing view from the deep blue of the sea in the Hania bay south to the snow covered peaks of the Madares mountain range north.

Just after the Kladissos river bridge lie some of the most beautiful and historical beaches and villages of the area of Hania.


Tourism and services
Newly built hotels along the way offer all the necessary ammenities . They range from small family run rent a room premises to big luxury class hotels. The rest of the services offered to tourists cover all tastes. There are small tavernas and more up market restaurants small cafes, bars, shops of all kind, bank offices, pharmacists etc.

There is a local bus service running every fifteen minutes from the 1866 Square in central Hania.