Crete : Arts & Literature
Found 3 - Showing : 1 - 3
Default Sorting
Sorting By proximity to Krassi Village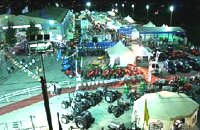 Arkalohóri Exhibition Centre & Theatre
A modern exhibition and congressional centre offering 8000 square meters of total space, 1500 of them being indoors. Among many events that take place in this centre is the Pancretan Agricultural and Commercial Exhibition of Arkalochori held every two years at the end of August. The exhibition attracts a large number of enterprises, manufacturers and services participating and is being visited by over 30,000 visitors from all over Crete. It is considered to contribute essentially in the rapid commercial and cultural development of the wider area.
Photo
The Municipal Open Theatre
Located in the area of the exhibition centre the theatre is of semicircular shape with a capacity of approximately 1000 seats. The facility offers also a canteen, toilets, dressing-rooms for the actors, store room of scene and backstage.The cultural events that the Municipality organises every summer, attract visitors not only from the wider area but also from Iraklion city.
Photo
Photo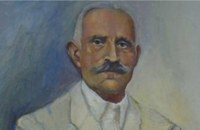 Ioannis Kondylakis
born in Viannos
at 20.6km (S)
Author and journalist(1862-1920). He was born in the village Ano Viannos in 1862. In his childhood he moved with his family in Piraeus. Quite soon though, only 3 years later, they got back at their special homeland and there, he finished the elementary school. Though he'd started attending high school in Iraklion, he finished it in Varvakeio School, in Athens.
His first novel was published in the newspaper 'Estia', in 1884. He was enrolled in the Philosophy School, but he never graduated.
In 1885 he got back in Crete, where he took a job as a teacher in Modi, Kydonias. His revolutionary character motivated him into writing patriotic articles in the local paper, an act that infuriated the Turkish occupants to such an extent that he had to flee in Athens, only this time he stayed permanently.
In Athens he worked for several newspapers like 'Estia', 'Asty' and 'Embros'. For more than 20 years he kept writing chronicles, which helped him win respect among the intellectuals. He used to use the pseudonym 'Diavatis' (Passer-by).
During his long literary career he wrote: 'Gramvoussa, i epanastasis en Kriti' (Gramvoussa, the revolution in Crete), 'I olokaftossis tou Arkadiou' (The Holocaust of Arkadi), 'Otan imoun daskalos' (When I was a teacher), 'Proti Agapi' (First Love), 'Eno diavaina' (When I was passing by), 'O Patouchas', 'Zampeliou Kai Kritovoulidou, Istoria Kritikon Epanastaseon' (Zampeliou and Kritovoulidou, Cretan Revolutions History), 'Imere kindynon kai fovou' (Days in danger and terror). Kondylakis' entire work is collected in his 'Apanta' (Collected works).Ioannis Kondylakis died in Irakleion, in 1920.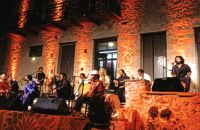 Labyrinth Musical Workshop
Houdetsi, Iraklion
at 26.5km (W)
The Musical Workshop "Labyrinth" organizes seminars, concerts and various creative activities around modal traditional musics of the world. Labyrinth Musical Workshop was founded in 1982 by Ross Daly, with the goal of initiating young people, primarily, into a creative approach to traditional musical idioms from various parts of the world.


Area of search
Show all
Regional interest (76)
Sight Seeing (26)
Geography & Nature (9)
Towns & Villages (47)
Beaches (7)
Resorts (9)
Fountains (2)
Culture (28)
History & Archaeology (16)
Minoan Crete (8)
Museums (6)
Monasteries (3)
Arts & Literature (3)
Education & Science (1)
Health (2)
People & Traditions (2)
Sports & Recreation (1)
Transportation (1)