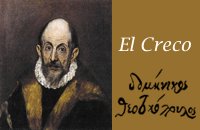 El Greco (Domenikos Theotokopoulos)
Painter born in Fodele, Iraklion
Great painter famous as "EL GRECO"(Fodele Iraklion Crete 1541 - Toledo Spain 1614) El Greco's art is the product of both his time and his genius. The artistic currents and the places he visited, are reflected in his work. It is more difficult to outline precisely the influence of the Cretan School in his work. Birth name: Doménikos Theotokópoulos (GR: Δομήνικος Θεοτοκόπουλος)
Born :1541 Crete, then Republic of Venice
Died :April 7, 1614 Toledo, Spain
Field :Painting, sculpture and architecture
Movement :Mannerism, Antinaturalism
Famous works :El Espolio (1577–1579), The Assumption of the Virgin (1577–1579), The Burial of the Count of Orgaz (1586–1588), View of Toledo (1596–1600), Opening of the Fifth Seal (1608–1614).