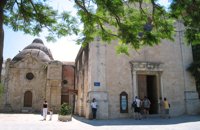 Agia Ekaterini church and Exhibition
Iraklion
Agia Ekaterini church and Exhibition of Byzantine Art and Ecclesiastical objects. A small sinaitic church of St. Catherine with a Basilica design, houses an exhibition with works of art from the Cretan renaissance. Among the exhibits are some of the most important icons of the Cretan School, ecclesiastical books and manuscripts, vestments, ecclesiastical vessels and relics, wall-paintings, wood-carvings and sculpture.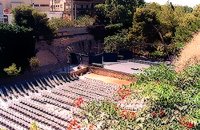 Nikos Kazantzakis Open Theatre (Oasis)
Iraklion
Oasis is the part of the ditch of the new Venetian fortification that corresponds to the Rampant of Jesus. East of the entry of Oasis is the Cyprus square, roughly 600m from the centre of the city. For the first time, Oasis functioned as a small theatre during the 2nd world war when enough pines were cut. Then, up to 1963, a lot of assemblies took place here, mainly political. In 1963, the first serious effort of exploitation of Oasis as summer theatre, which was maintained up to 1976. In 1976 the theatre was created with the form that it has today. It became a modern open theatrical space of 1200 seats with all the necessary comforts.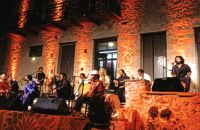 Labyrinth Musical Workshop
Houdetsi, Iraklion
The Musical Workshop "Labyrinth" organizes seminars, concerts and various creative activities around modal traditional musics of the world. Labyrinth Musical Workshop was founded in 1982 by Ross Daly, with the goal of initiating young people, primarily, into a creative approach to traditional musical idioms from various parts of the world.