Found 3 - Showing : 1 - 3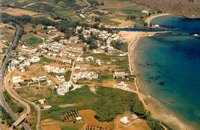 Georgioupolis town
Apokoronas, Hania
Georgioupolis lies at the northern coast of Crete, about 35km away from Hania and 20 km from Rethimno. It is a nice coastal village situated at the bay of Almiros, in a lovely green scenery. It has a sandy beach and attracts quite a few visitors in the summer time. It provides all the necessary facilities to the tourists.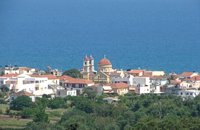 Kalyves town
Apokoronas
A flourishing traditional seaside town on the Apokoronas Peninsula 17km east of Hania. Kalýves (or Kalives GR: Καλύβες) with its old tiled stone houses, mixed with the latest buildings form two separate districts, with typical island style. Most of it is literally built on the sea and has 1289 residents. Xydás (GR: Ξυδάς) river that runs through the town, is giving it a unique character and a cool climate that prevents the heat of summer. In the square, you will see a traditional water mill built in the early 20th century, one of the oldest in the area. Kalives is tastefully developed for tourism, and welcomes many visitors during the summer season to its safe sandy beach. With comprehensive amenities, there are many shops, taverns and kafeneion, in addition to banking, post office and petrol station facilities.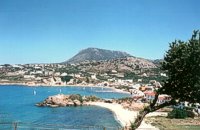 Almirida village
Apokoronas
A beautiful small sea side village with long sandy beach where wind surf, canoes, paddle boats, umbrellas and sun beds can be rented. The place provides all the facilities for the visitors with small hotels, rooms, apartments and many taverns with traditional food and fresh fish. Recent years it became very popular with expatriates and there is a significant development in the real estate sector.
Image Library
Area of search
Show all
Regional interest (11)
Sight Seeing (3)
Geography & Nature (2)
Towns & Villages (9)
Beaches (3)
Resorts (4)
Culture (3)
History & Archaeology (1)
Museums (1)
People & Traditions (1)