Gramvoussa island & Fort
Gramvoussa Cape, Kisssamos
at 2.9km (N)
Due to its strategic location, Gramvoussa was fortified by the Venetians, who built a well-fortified castle on the top of a steepy rock at an altitude of 137 m. Construction on the castle of Gramvoussa started in 1579 and ended in 1582.



Polyrinia ancient town
archaeological site in Kissamos
at 15.3km (SE)
Polyrinia (GR: Πολυρρήνια) was one of the most important cities-states of the Western Crete.It was built amphitheatrically on top of the hill (418 m altitude) with a commanding view of both the Cretan and the Libyan sea, located 49 km from Hania and 6 km from Kissamos . The history of Polyrinia starts in the Minoan period and continues to the present day.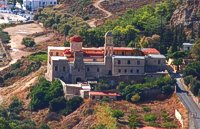 Gonia Monastery & Museum
Kolimbari, Kissamos
at 17.5km (E)
The monastery of Gonia (GR: Μονή Γωνιάς) or Panagia Odigitria, is located 1 km north of Kolimbari (along the Spatha penninsula) and 24 km from the city of Chania in a wonderful place with a magnificent view to the bay of Hania. It was built in the 17th century, in the Venetian fortress style, and it is dedicated to the Assumption of the Virgin.
The monastery replaced an older, 13th-century structure, which was located on the territory of an adjacent cemetery.