Crete : History & Archaeology
Found 3 - Showing : 1 - 3
Default Sorting
Sorting By proximity to Toplou Monastery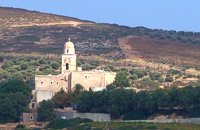 Toplou Monastery
It is an historical monastery of the 15th century, which collapsed in the earthquake of 1612 and was rebuilt with the financial aid of the Venetians. During the Ottoman conquest of Crete, the monastery was destroyed and devastated by the Turks. In 1704 the monastery was declared stauropegion. During the Ottoman occupation there was a school in the monastery, while, after 1870, it was founded there a school of mutual teaching. The Monastery is a stauropegion fortress. The main building of 800 m2 has three floors, which are divided into cells, guest - houses, kitchens, the abbot' s residence and warehouses. The katholicon is a two-aisled church; the northern aisle is dedicated to the Virgin, and the southern posterior aisle, to St John the Theologian. The monastery' s characteristic bell tower bears relief crowns and crosses with inscriptions and the date 1558. In the Monastery, there is also an interesting Museum.
Image Library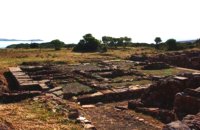 Palaikastro Archaeological site
Sitia, East Lassithi
at 6.1km (SE)
At the northernmost edge of the eastern coast of Crete lie the ruins of a settlement which flourished during the Late Minoan period (1550-1220 B.C.). At the same site, however, are preserved remains of the Early and Middle Minoan periods (3000-1550 B.C.), mostly cemeteries with well-built ossuaries, and ruins of spacious houses. The site ceased to be inhabited at the same time when Zakros was abandoned (1450 B.C.) but was reoccupied during the Late Minoan III period (1300-1200 B.C.). The city covered a total area of more than 50,000 sq.m., was densely inhabited but not fortified.
To the NE of one of the city's sectors lies the sanctuary of Diktaian Zeus, which belonged administratively to the city of Itanos. Cult practice was continuous from the Geometric period (8th century B.C.) until the Roman conquest. It seems that the sanctuary was plundered and destroyed by fanatic Christians at the end of the 4th century A.D.
Image Library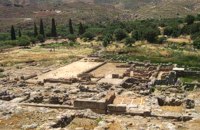 Zakros Palace and Archaeological Site
Sitia, East Crete
at 14.3km (S)
Like the other Cretan palaces, the palace of Zakros, was first built in about 1900 B.C. The present ruins seen by the visitor belong to the second building phase, in about 1600 BC.
The total area of the palace, including ancillary buildings, is approximately 10,000 sq.m. It was not only the permanent residence of the royal family, but also the administrative, as well as commercial and religious centre of the surrounding area.
The long term excavations have yielded over 10,000 objects, many of them considered unique, which are now on display in the Iraklion and Sitia museums.
Image Library
Area of search
Show all
Regional interest (25)
Sight Seeing (8)
Geography & Nature (3)
Towns & Villages (16)
Beaches (7)
Resorts (4)
Fountains (1)
Culture (9)
History & Archaeology (3)
Minoan Crete (5)
Museums (2)
Monasteries (2)
Arts & Literature (2)
Health (1)
People & Traditions (3)