Crete : History & Archaeology
Found 3 - Showing : 1 - 3

Gournia - Archaeological Site
Pahia Ammos, Ierapetra
Gournia lies on a small hill, a few hundred metres from the sea in the Gulf of Mirabello, close to the north end of the Ierapetra isthmus ( 2 Km from Pachia Ammos village & 19 Km from Ag.Nikolaos). Gournia - the ancient name of which is not known - is the most characteristic of the excavated medium-size settlements, dated to the period of the peak of the Minoan culture (Late Minoan I period: 1550-1450 B.C.).
It is called "Pompeii of Minoan Crete" because of the good state of preservation. It occupies a low hill, close to the sea, at the Isthmus of Ierapetra.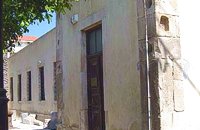 Ierápetra Archaeological Museum
Ierapetra town, South Lassithi
The museum was founded at the end of the 19th century, during the Turkish occupation of Crete and was housed in several buildings in the past. Today it is housed in the building of the Commercial Ottoman School, which is protected by a preservation order. The collection includes findings from the broader area and from the Minoan to the Roman period. Among the items are painted sarcophagi, lamps, vases, figurines, relief plaques. One of the most important exhibits of the museum is the Clay sarcophagus dated to 1450-1400 B.C.
Image Library
Vassiliki - Archaeological Site
Pahia Ammos, Ierapetra
The ancient settlement of Vasilike is one of the first Minoan settlements with town-planning. It occupies the top and slopes of a low hill near the village Vasilike, in the vicinity of the Minoan settlement of Gournia. The first settlement dates back to the Early Minoan II period (2600-2300 B.C.) and owed its development not only to the strategic position, controlling the Isthmus of Hierapetra, but also to the neighbouring fertile plains. The central building of the settlement was destroyed by fire in around 2300 B.C.


Area of search
Show all
Regional interest (17)
Sight Seeing (6)
Geography & Nature (2)
Towns & Villages (14)
Beaches (2)
Resorts (2)
Culture (4)
History & Archaeology (3)
Minoan Crete (2)
Museums (1)
Education & Science (1)