Found 3 - Showing : 1 - 3
Default Sorting
Sorting By proximity to Agios Constantinos village

Myriokefala village
It is built at 500m a.s.l. and 37km away from the city of Rethymno, with 400 inhabitants most of them farmers and stock breeders. It took its name due to its position, "MYRIOKEFALA" means myriads of heads (here :Hills). It is the birth place of George Maravelakis, a great fighter of the 1866 revolution against the turks. The monastery of Miriokefala, an interesting sight, devoted to the Holly Mother, was established by Ai Kir Giannis (a Cretan Saint) in the 11th century. There are many icons of Byzantine art, among them this of Holly Mother.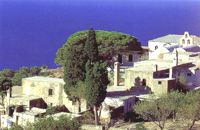 Preveli Monastery
Agios Vassilios, Rethymnon south
at 17.5km (SE)
It stands 37 km south of Rethimnon, in an imposing landscape which is mentioned at the mid-19th century diary of
Th. Spratt
(admiral of the British Royal Navy), as "one of the happiest places to withdraw from trials and responsibilities of life".There are lots of legends concerning the foundation of the monastery, which is believed that started during the Venetian occupation of the island. A number of its monks activities made the monastery one of the richest of western Crete and due to its isolated position it played important role in Cretan revolts against the occupying forces. A substantial number of icons and other items is kept in the Museum of the Monastery of Preveli amongst them the miracle - working Eulogistic Cross of Efraim Prevelis.
Image Library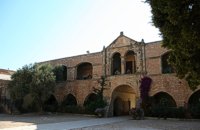 Arkadi monastery
The Monastery of Arkádi (GR:Αρκάδι) built during the last Venetian period, it consists of a large set of fortress-like buildings. The main building included the cells, the warehouses where the agricultural products were treated and stored, the stables. In a word, it was a well-equipped little fortress where people could find refuge in times of trouble. There is an impressive church, with two naves dedicated to Saint Constantine and Saint Helen, and to Our Lord.
Due to the holocaust it suffered in 1866, Arkadi has become the island's most famous monastery.
Image Library
Area of search
Show all
Regional interest (44)
Sight Seeing (27)
Geography & Nature (7)
Towns & Villages (29)
Beaches (13)
Resorts (12)
Fountains (1)
Culture (23)
History & Archaeology (13)
Minoan Crete (4)
Museums (8)
Monasteries (3)
Arts & Literature (1)
Education & Science (1)
Health (1)
People & Traditions (2)
Tourism & Leisure (2)
Hotels... (1 )
Food & Entertainment (2)
Sports & Recreation (1)