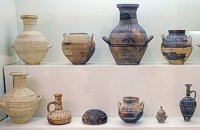 Agios Nikolaos Archaeological Museum
Agios Nikolaos, Lassithi
The Archaeological Museum of Aghios Nikolaos is one of the most important in Crete and has been in operation since 1969. It houses collections of very important archaeological finds from the whole of Eastern Crete, an area extending from Malia as far as Zakros. These are displayed in chronological order from the Neolithic period (5700 - 2800 B.C.) to the end of the Roman times (100 B.C. - 400 A.D.) Its showcases include more than 1350 vases from the 3rd millennium B.C. as well as gold and copper finds (the most ancient found in Crete).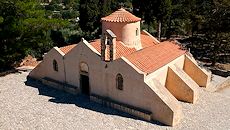 Panagia Kera of Kritsa
Mirabello, Lasstithi
The Panagia Kera of Kritsa, as it is called the Temple of the Virgin Mary (Kera), is 1 km to the north of the village of Kritsa in Merabello Lassithi, in a place called Logari, right on the road from Agios Nikolaos to Kritsa. The history of the church of Panayia Kera begins at least since the 13th century.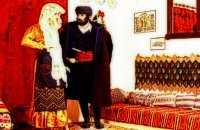 Agios Nikolaos Folklore Museum
Agios Nikolaos, Lassithi
The Folk Art Museum of Aghios Nikolaos, in collaboration with the "Cultural Society of Eastern Crete", founded in 1978. All the original and important material was generously offered by the Touring Club of Aghios Nikolaos. Since then more objects have been added to the collection.
A visit to the Folk Art Museum will help you to become familiar with the sort of work and activities the people of this area had in the old days. The Museum houses a rich and beautiful collection of hundreds of genuine samples of Cretan popular art and mainly hand woven and embroidered pieces, some of which are unique.