Crete : People & Traditions
Found 3 - Showing : 1 - 3
Default Sorting
Sorting By proximity to Archaeological Museum of Herakleion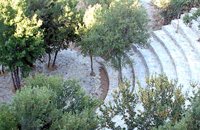 Yakinthia Festival
The artistic events, which take place every year in the first week of July at the same place called Fourni and in the Cretan village of Anogia. The poet, songwriter and singer from Anogia, who they call "Loudovikos from Anogia" wants to make the history of the young martyr, who supersedes his fear in love known to the public. And because 1.900 years have passed since the martyrdom of Yakinthos, he decided to honor the Saint of Love and sing together with him of the poetry of love.(www.yakinthia.com)



Windmills of Lasithi
Seli Ampelou, Lassithi Plateau
at 32.4km (SE)
It is the most significant group of windmills preserved on Crete. It occupies the northern entrance to the Lasithi plateau and is the landmark of the whole area. Today 24 windmills are preserved (out of the original 26), 7 of which extend to the south of the road that enters the plateau while the rest are built to the north of it. All the mills belong to the one-sided type of windmill, that grinds in a standard position, always on the same direction of the wind. Windmills of this type are preserved on Crete and on Carpathos but the Cretan ones are generally more carefully built and more elegant. The group of windmills has been declared a work of art since 1986. The mills belong to individuals and some of them have been restored while others still remain half-ruined.
Source:
The Hellenic Ministry of Culture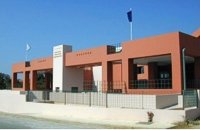 The Museum of Cretan Ethnology
Voroi, Messara, Iraklion
at 42km (SW)
The exhibited objects in the Museum come from all over Crete. These objects show that the folk culture of Crete is characterized by an amalgam of influences in which Minoan (2000-1000 BC), Archaic (1000-500 BC) and Byzantine models prevail, especially in agriculture, stock breeding, pottery and basketry.


Area of search
Show all
Regional interest (136)
Sight Seeing (68)
Geography & Nature (15)
Towns & Villages (77)
Beaches (21)
Resorts (16)
Fountains (11)
Culture (81)
History & Archaeology (53)
Minoan Crete (18)
Museums (12)
Monasteries (8)
Arts & Literature (10)
Education & Science (6)
Health (3)
People & Traditions (3)
Tourism & Leisure (5)
Hotels... (3 )
Rent a Car... (1)
Food & Entertainment (2)
Sports & Recreation (4)
Transportation (3)
Business (3)