Crete : Car & Bike Rentals
Found 3 - Showing : 1 - 3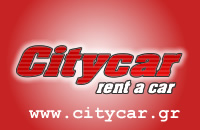 CityCar rent a car
Iraklion
Since 1985, with hard work, we have managed to become well known and trusted car hire company, not only in Crete but also amongst our numerous customers from Europe and other countries. We are the cheapest in town. We deliver to port, airport and hotels. Full insurance without excess. - New models, Safe Cars, Special Offers.
No deposit required for booking.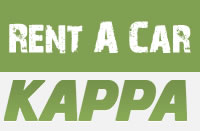 KAPPA - Car Rental Services
Platanias, Chania
Our twenty years of experience combined with our complete fleet of cars and our competitive prices ensure a great experience in renting a car in Crete. Our fleet consists of cars of all categories from super mini hatchbacks to 9 seat mini buses, including automatic and environmental friendly cars. With continuous replacements of the cars we managed to have only brand new and slightly used cars in our fleet.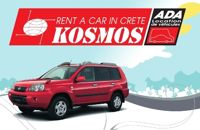 KosmosRentCar - Car Rental in Crete
25th August Street Nr 15, Heraklion, Crete
Kosmos Car Hire in Crete since 1979:
All Inclusive Special Car Rental Offers in Crete with Full Insurance, All Car insurances, Unlimited Mileage, 24h Road Assistance.
FREE 2nd Driver - FREE Childseats - FREE Road Map of Crete.
Car rental service locations all over Crete: Heraklion, Chania ,Rethymnon, Lassithi.
Delivery to (Pick Up) & Collection from (Drop Off): Airports, Ports, Hotels in Crete.
Full fleet of rental cars of all Groups in Crete: Mini, Small, Open top, Compact, Economy, Standard, Medium, Intermediate, Large, Family Cars, 4 Wheel-Drive Jeeps, Automatic, Convertible, Cabriolet, SUV, Mini Vans, Mini Buses and Luxury Cars.
Cars equipment: GPS, Roof Rack/Roof Bars.
Open 365 Days/Year.
Area of search
Show all
Regional interest (282)
Sight Seeing (139)
Geography & Nature (42)
Towns & Villages (146)
Beaches (58)
Resorts (46)
Fountains (13)
Culture (144)
History & Archaeology (98)
Minoan Crete (29)
Museums (30)
Monasteries (18)
Arts & Literature (16)
Education & Science (11)
Health (9)
People & Traditions (11)
Tourism & Leisure (139)
Hotels... (135 )
Rent a Car... (3)
Food & Entertainment (5)
Sports & Recreation (8)
Transportation (12)
Business (8)
Real Estate (1)