Found 3 - Showing : 1 - 3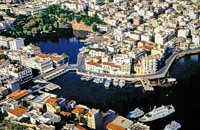 Agios Nikolaos city
North East Crete, Lassithi
Agios Nikólaos (GR: Αγιος Νικόλαος), with 9.500 inhabitants, is the capital of the Lassithi province of Crete. It is built around a picturesque lake at the north-western side of the Mirabello bay, the biggest bay in Crete. Major administrative, cultural and communications center, Agios Nikolaos is one of the most developed tourist areas, not only in Crete but in Greece in general. Thanks to the beautiful coasts, the great sights and the cosmopolitan life, this lively city hosts every year thousands of visitors without losing one bit of its tranquility and traditional hospitality.
Image Library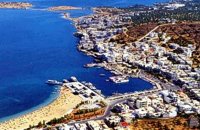 Elounda town
Mirabello Bay, Lassithi
The area is touristic developed with many shops, restaurants on the shore, bars and several excellent hotels famous for their comforts and the variety of amenities offered. The lagoon of Elounda is shaped between the coast and a small peninsula of 7-8 km length ... Spinalonga, since antiquity, has protected the harbor of ancient Olous.



Sissi town
Mirabello, Lassithi
The village of Sissi, a picturesque village 40 km east of Heraklion and 25 km west of Ag. Nikolaos. Sissi is a beautiful fishing village with strange nature. On one side of the village the nature is wild, with a small river flowing into the sea, a number of palm trees on its banks, ducks and geese swimming peacefully. On the other side there are sandy and gravel beaches, caverns in the rocks and deep clear water, full of many kinds of fish. A place that gathers the nature of different places of Crete.


Area of search
Show all
Regional interest (14)
Sight Seeing (8)
Geography & Nature (2)
Towns & Villages (5)
Beaches (1)
Resorts (3)
Culture (7)
History & Archaeology (4)
Museums (3)
Monasteries (1)
Health (1)
People & Traditions (1)