Crete : Transportation (flights, buses, ferries, taxi, ports, airports, removals...)
Found 3 - Showing : 1 - 3
Default Sorting
Sorting By proximity to Archaeological Museum of Herakleion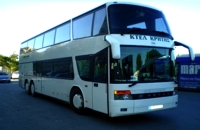 Crete Public Bus Services
Heraklion Port
at 0.3km (NE)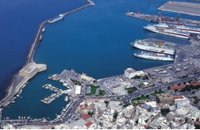 Heraklion Port
The Port of Heraklion is the main and most modern gateway for the transport of passengers and commodities on the island of Crete.
There are three main companies that connect Iraklion to mainland Greece, Minoan Lines, Superfast Ferries and ANEK. During the winter months there are daily trips from Athens to Iraklion. The trip takes approximately 6 - 9 hours by ferry boat. The ships depart Athens in the evening (10.30 p.m.) and arrive in Iraklion at 5:00 - 6:00 a.m. There is also a weekly trip to Thessaloniki. During the summer season all companies operate also an extra daily trip that departs in the morning from Athens and arrives at Iraklion port in the afternoon. Finally various other companies operate ships connecting Iraklion with other island in the Aegean (Rodos, Santorini etc.). Daily cruises are also offered to the island of Santorini.
Image Library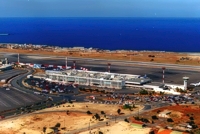 International Airport Nikos Kazantzakis
Iraklion ( Nea Alikarnassos)
at 3.2km (E)
Heraklion International Airport, "Nikos Kazantzakis" (Greek: Κρατικός Αερολιμένας Ηρακλείου, "Νίκος Καζαντζάκης") or Nikos Kazantzakis International Airport (IATA: HER, ICAO: LGIR) is the primary airport on the island of Crete, Greece. It is located about 5km from the main city of Heraklion.
Heraklion International Airport is is one of the biggest in Greece and receives approximately 15% of the total tourist traffic of Greece. There are many airlines currently operating flights from Athens and Thessaloniki to Iraklion (Olympic Airways, Aegean Airlines and others), while during the high season there are flights from/to Rhodes, Mykonos, Santorini and other Greek islands. There are also international airlines that connects Iraklion to other European cities. During the summer season there are numerous chartered flights to Iraklion from all over Europe (mainly Germany, the United Kingdom, Russia, and Holland). During the summer months there is a huge increase in air traffic that peaks in August (approximately 130 flights per day).
Major car-rental companies have desks at the airport. Taxi and public bus are available for transfer from/to Iraklion.


Area of search
Show all
Regional interest (136)
Sight Seeing (68)
Geography & Nature (15)
Towns & Villages (77)
Beaches (21)
Resorts (16)
Fountains (11)
Culture (81)
History & Archaeology (53)
Minoan Crete (18)
Museums (12)
Monasteries (8)
Arts & Literature (10)
Education & Science (6)
Health (3)
People & Traditions (3)
Tourism & Leisure (5)
Hotels... (3 )
Rent a Car... (1)
Food & Entertainment (2)
Sports & Recreation (4)
Transportation (3)
Business (3)