Aptera, Apokoronas, Hania
at 27.5km (NW)
One of the most important city - states of Crete. The first epigraphic occurence of its name (A-pa-ta-wa) is found in the Linear B tablets found at Knossos. (14th - 13th century B.C.). The history of the city is continued through the centuries untill the 7th century A.D. when a major earthquake destoyed it. Its ideal location, allowed the city to control the naval activity in the bay of Souda, and was determinative for its development in an important commercial center.
The era of the city's greatest peak was the early Hellenistic period (late 4th - 3rd century B.C.). At that time Aptera experienced an economical and political floruit, begins to mint its own coins and develops diplomatic relations with important centres of the Hellenistic world.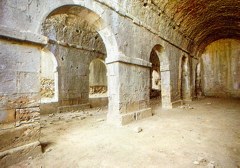 Roman cisterns
During the period of Roman occupation it appears to have developed a more rural character. Habitation at the site continued into the early byzantine period. After the 7th century destruction in the central area of the city was established the monastery of Saint John the Theologian (Agios Ioannis o Theologos), firstly mentioned in 12th century texts.
The most important monuments of the site are:
Roman cisterns.
Bipartite temple, known as the "bipartite sanctuary", dated to the 5th-4th century B.C.
Graves of the Geometric-Roman periods.
The fortification wall, preserved to a length of almost 4 kilometres.
Part of a Roman bouleuterion.
Byzantine buildings.
Monastery of Agios Ioannis Theologos.
Turkish fortress built in 1866-1869.
Source:
The Hellenic Ministry of Culture