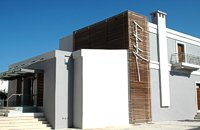 Nikos Kazantzakis Museum
Myrtia. Iraklion
at 13.5km (SE)
The Nikos Kazantzakis Museum is dedicated to the great Greek writer, poet and philosopher Nikos Kazantzakis. It was founded in 1983 and it is located at the village Myrtia in Iraklion, next to his father's house.
The museum contains some of his personal belongings (pipes, glasses, pens, etc.) and a rich collection of his manuscripts and letters, first Greek editions of his books, documents from theatrical productions of his works, copies of TV series and movies based on his novels, portraits of Nikos Kazantzakis, copies of press releases and articles on his life and work.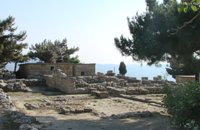 Minoan Megaron at Vathypetro
The Minoan villa at Vathypetro was most likely the residence of a local ruler. Its architecture is comparable to that of a "Little Palace": it has a central and west court, a small tripartite shrine, a three-columned portico, storerooms and workshops. It seems that the construction of the building was never completed. Interesting elements of its architecture are the installations of a wine-press in the south wing and an oil-press in the courtyard.