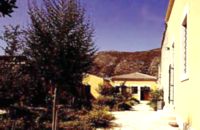 Archanes Archaeological collection
Archane, Iraklion
The Archaeological Museum of Archanes opened in 1993. It occupies an area of 570 square meters and it is located at the Tzami quarter in the center of the settlement. There, for the first time in Crete, the archaeological finds from a single site are exhibited. While the exterior spaces of the building were adapted to a tasteful ensemble, in resemblance with the impressive modesty of the environment and the traditional ochre and rosy colour tonations of Archanes. The interior was thus arranged as to accommodate the most modern mode of exhibition, especially attractive for the visitor.


History of Iraklion town
Iraklion town
Iraklion was build by the Arab Saracens in 824 A.D.. At the time it was called Chandax, a name adapted from the Arab word "kandak" that means moat , due to the moat that the Saracens dug all around the city. Iraklion was built on the location where the old harbour of Knossos used to stand...