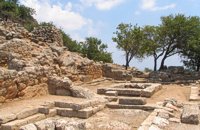 Lato - Archaeological Site
Mirabello, Lasstithi
at 41km (W)
Lato (Gr: Λατώ) was an ancient city of Crete, the ruins of which are located approximately 3 km from the small town of Kritsa. The Dorian city-state was built in a defensible position overlooking Mirabello Bay between two peaks, both of which became acropolises to the city. Although the city probably predates the arrival of the Dorians, the ruins date mainly from the Dorian period (fifth and fourth centuries BC). The city was destroyed ca. 200 BCE, but its port (Lato Etera or Lato pros Kamara), located near Agios Nikolaos was in use during Roman rule.
There is some suggestion that the city was named after the goddess Leto (of which Lato is the usual Doric form) and may be mentioned in Linear B tablets as RA-TO. Lato also minted coins in antiquity,[3] bearing the likeness of the goddess Eileithyia who appears to have been the one particularly worshipped at Lato.
Nearchus, admiral of Alexander the Great, was born at Lato.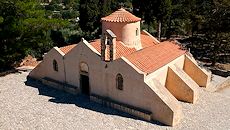 Panagia Kera of Kritsa
Mirabello, Lasstithi
at 41.3km (W)
The Panagia Kera of Kritsa, as it is called the Temple of the Virgin Mary (Kera), is 1 km to the north of the village of Kritsa in Merabello Lassithi, in a place called Logari, right on the road from Agios Nikolaos to Kritsa. The history of the church of Panayia Kera begins at least since the 13th century.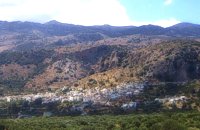 Kritsa town
Mirabello, Lasstithi
at 42km (W)
Kritsa is one of the most picturesque towns in Crete, built amphitheatrically on a rock hill. It is located 11 km from Agios Nikolaos and has 2000 inhabitants. The people keep the old Cretan customs and the traditions and the town is considered one of the most important centers of the Cretan folk and weaving art.