Crete : History & Archaeology
Found 43 - Showing : 41 - 43
Default Sorting
Sorting By proximity to Archanes Archaeological collection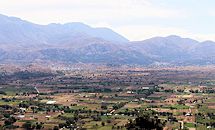 Lassithi Plateau
Lassithi, Dikti Mountains
at 29.7km (E)
The Lassithi Plateau (GR: Οροπέδιο Λασιθίου, Oropedio Lasithiou), is a high endorheic plateau, located in eastern Crete, Greece on the mountain range of Dikti at an average altitude of 840 m, and in a distance of around 55km from Heraklion and 50km from Agios Nikolaos. The plateau is elliptical in shape with an E-W axis of 11km and the N-S of 7km.
The plateau of Lassithi is renowned for its exceptional agricultural produce, the thousands (almost 15000) windmills that used to be there in the past, its significant historical role and for the unique cave of Psychro also known as "Diktaion Andron".
Image Library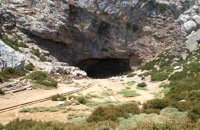 Ideon Cave
Psiloritis Mountain
at 30km (W)
At 1538m above sea level, 20 km. south of the traditional town of Anogia , on the plateau of Nida, of Mountain Psiloritis, lies this sacred cave, where according to mythology, Rhea, Zeus' mother, hid the new born Zeus in this cave in order to protect him from his father Kronos (Saturn), who was in the habit of swallowing his children because he feared they might deprive him of his power. Hidden in that cave Zeus grew up being fed with the milk of the goat Amalthia, while the 'Kourites" covered the child's crying through banging their copper shields.
Image Library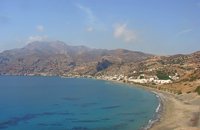 Tsoutsouros village
Monofatsi, South Iraklion
at 30km (SE)
Tsoutsouros (GR: Τσούτσουρος) is a small village on the southern coast of Iraklion prefecture, with lovely beaches and a small harbour. The ancient city of Inatos, used to stand were Tsoutsouros is now. Inatos served as a port to Priansos a renowned city - state of the Hellenistic time, located near the village of Kasteliana.
Tsoutsouros is a popular tourist resort especially with Greek families. There are many taverns and cafes most of them around the small harbour, and a good choice of apartments and hotels along the beach.
Image Library
Area of search
Show all
Regional interest (97)
Sight Seeing (51)
Geography & Nature (12)
Towns & Villages (53)
Beaches (9)
Resorts (9)
Fountains (11)
Culture (65)
History & Archaeology (43)
Minoan Crete (9)
Museums (9)
Monasteries (5)
Arts & Literature (8)
Education & Science (6)
Health (3)
People & Traditions (2)
Tourism & Leisure (3)
Hotels... (1 )
Rent a Car... (1)
Food & Entertainment (1)
Sports & Recreation (3)
Transportation (3)
Business (3)