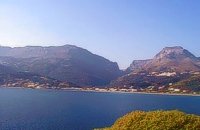 Plakias
Agios Vassilios, Rethymno (South)
at 29.2km (SW)
A sea side village, 40 km south from Rethimno, with 237 permanent residents, built at the cove of the bay of the same name on a wonderful sandy beach, 1300 m long, between the capes Stavros and Kako Mouri, that is ideal for swimming and sea sports. The natural beauty of the place helped Plakias to become a renowned tourist resort now providing all the facilities that a visitor could wish. It belongs to the municipality of Finikas.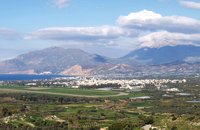 Timpaki town
Messara, Iraklion South
at 29.4km (S)
The town of Timpaki (GR: Τυμπάκι) is located in the west edge of the plain of Messara, 65.3km away from the city of Iraklion. It is a rich and busy town with significant economic activity especially due to the early vegetables production in the wider area. There are banks, a post office, medical centers, stores, schools, hotels, restaurants, ect to cover both the needs of the locals and visitors.