The village of Sfinari is blessed with many water sources so it is overwhelmed with trees and flowers.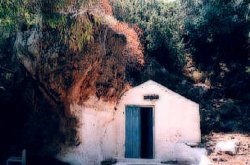 the small chapel of Agia Paraskevi
built inside a rock.
Fresh fish is guaranteed as it abounds in the sea around the village, dolphins are often seen in the sea. To the rocks near the beautiful beach of Sfinari come the seals to give birth to their babes.
The village offers many rooms for accommodation and there are taverns in the village and by the beach in the trees that cover the sea side.
The trees by the beach are also an ideal place for free camping. Campers are welcome, there are plenty of shady places and water and a proof that they do have a good time is that many of them are regular visitors every summer.
There is also a trailer ramp for launching boats at the small port of the village.
Photos