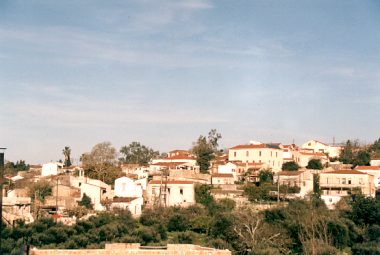 Vámos (GR: Βάμος), the capital of Apokoronos district and previously of the Sfakia prefecture-today capital of the new municipality- is an exceptionally interesting village that the Ministry for the Environment, Physical Planning and Public Works has classed as
traditional
.
It is more like a small town, very well preserved, with folk and neoclassical architectural elements (
cultural centre
).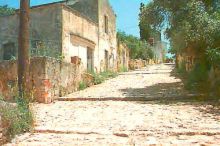 The initiative of a group of inhabitants to create an association for the preservation of the village as well as
alternative tourism strategies
is already paying off while constituting a model for further local progress. Their organisation successfully manages to make all visitors friends of Vamos. They enchant visitors with the beauty of their village (
lane
), lying green and peaceful at the foot of Madares, with their warm hospitality,
traditional cafes - kafeneion -
, beautiful old buildings behind each of which lies a story, and their wonderful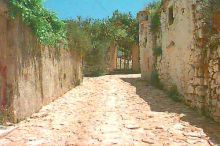 steep lanes.
The famous art and cultural festivals are good opportunities for everyone to experience the hospitality and entertainment Vamos can offer. Interesting buildings in the village are the Agios Nikolaos and Agios Georgios churches, the restored old school (built in 1863) with the old girl's school in its yard, which is now used as a
guesthouse
.
Vamos was the
site of many battles
in 1866 and 1896. The 1896 events attracted foreign interest and were the cause of the General Cretan Revolutionary Meeting (with Roussos Koundouros presiding) in Vamos with the aim of the independence of Crete (
memorial
).
In the district of Vamos, in the venetian village of Karidi Kartsomado one can see the ruins of the small monastery of
Panagia at Katomeri
, complete with frescoes dating from the 13th century.
Opposite the aforementioned village lies another venetian village, Karidi of Agios Georgios, with its venetian villa and other buildings including the large
monastery of Agios Georgios
, which is still active and constitutes the most interesting architectural element in the prefecture of Hania. Buildings such as the large olive oil press can be restored and become a living agricultural museum or cater for a wide variety of public events.
Douliana
is a small village in this district, situated on a hill with beautiful natural surroundings and interesting architecture. This traditionally preserved settlement has maintained its character more than any other community in the area. Many foreigners live permanently in the village. The locals take a great interest in issues regarding the preservation of the community.