Agia Varvára (GR: Αγία Βαρβάρα) is a town built along the road between the Messara plain and the Malevizi region at the highest point (580 m).
The town
enjoys a unique location with a splendid view
into the Malevizi region, and a cool climate, particularly pleasant during the hot summer months. It is exposed to winds coming from every direction and gets a good share of rain during the winter months. It
produces first-rate fruit and vegetables
.
In Venetian times, Aghia Varvara included 12 neighbourhoods: Pirouniana, Miloniana, Kampaniana, Trapeziana, Barberiana, Papadiana, Ragouziana, Tithiana, Alidiana, Porti, Thalassiana and Kampithiana, from the names of different families.
Aghia Varvara is mentioned in many Venetian documents of the 16th and 17th centuries, and in the Egyptian census of 1834 it is quoted as having 40 families. In 1881, it is mentioned as part of Megali Vrisi with 450 inhabitants and in 1900, in the same municipality, with 586 inhabitants. From 1920, it figures in all the censi as a community with a continuously growing number of inhabitants. Nowadays there are over 2000 inhabitants.
When the Turks conquered the island, Achmet Kioprouli Pasha took the image of Aghia Varvara and dedicated it to the Vezir Tzami, today the church of Aghios Titos in Heraklion.
Because of its strategic location on the main north-south axis, the town was often exposed to fierce battles. A famous warrior, Mathiou Kapitakis or Mathioudakis was born here: he fought side to side with Karaiskakis and was killed at Faliro. His comrade-in-arms, Logios, was the hero of Aghios Thomas.
As you reach the village, on the north side there is a rock with a chapel dedicated to Profitis Ilias. On this rock -which used to be twice as large but part of it fell off at the beginning of the 19th century- there used to be an ancient temple.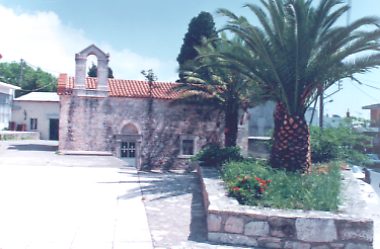 Old church of Agia Varvara
Nowadays, the visitor can find every kind of
commodity and facility
on hand at the modern town of Aghia Varvara. In summer a special
'tsikoudia' feast
, and in early spring a carnival feast are organized by the Cultural Association of the town.
Don't forget to visit both the old and the new churches in the centre of the town, dedicated to the patron saint, Aghia Varvara.
Three Byzantine churches are also well worth a visit: Profitis Ilias, Aghios Giorgos and Aghios Ioannis, and of course the old monastery of Aghia Pelagia by the cemetery.