The town of Arkalochori (GR: Αρκαλοχώρι) with a population of 2.881 is located 33km away from
Heraklion
, on the provincial road linking Heraklion and Viannos, at 395m above sea level.
Its inhabitants are mostly involved in agriculture, but in commerce and arts as well.
Arkalochori shows a remarkable increase in wealth as well as in population, which is ten times as much as it was in 1900.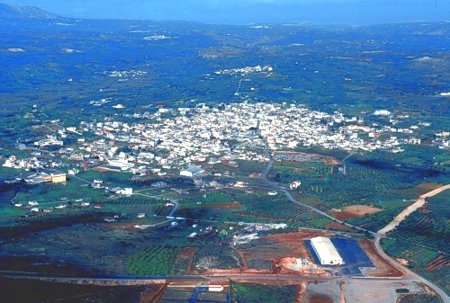 Facilities
All civil services are based in Arkalochori: Medical Center, County Court, Police Station, Agronomy Office, Tax Office, Agriculture Service, Telecommunications Office (OTE), Electricity Board Office (DEI), Post Office (ELTA), Land Registry, Solicitor, etc.
There are also schools of all levels (elementary, high school, lyceum), children's care, nurseries, sports center, culture club, radio station, pharmacies and generally whatever is expected from a modern town to possess.
The main land products in the area are olive oil and olives, raisins, grapes and few cereals.
There is a recent development of medium sized enterprises, such as packing of products etc.

Branches of the Agricultural Cooperatives Union of Heraklion, banks (Agricultural Bank, National Bank, Alpha Bank, Peraeus Bank...) are also based in Arkalochori.
Commerce is especially developed and one can find a rich variety of all kinds of goods. The market of Arkalochori has been famous since the Turkish occupation times and the open market (bazaar) held here every Saturday has its roots some centuries back.
During the last days in August every second year the successful Pancretan Agricultural and Commercial Exhibition of Arkalochori is held, with a large number of enterprises, manufacturers and services participating in it. The Exhibition is taking place at the Municipal Exhibition Center is being visited by many visitors from all over Crete and is considered to contribute essentially in the rapid commercial and cultural development of the area.

The visitor will find a hotel for his/her stay and many beautiful small tavernas and cafes to taste the Cretan delicacies.

History
Findings of the Minoan era have been excavated in the wide area, like the ancient town and palace at "Galatiani Kefala", but also at "Profitis Ilias", where a cave of worship has been found.
In the Venetian census it is mentioned as ARCALOGHORI and belonged to Castellania Belvedere. In 1583 there were 160 inhabitants, according to the census of the Castle Registrar, while in 1881 there were 109 Christians and 103 Muslim inhabitants.
The visitor will find it worth visiting the picturesque churches and the small remote country churches in the area to admire their religious paintings and their architecture.

The name of the Arkalochori Town is referred to the word "arkalos", which is the common local name of the badger, as it seems that these animals used to exist in large numbers in the area, fact also supported by a still existing place called "arkalies" (place of the badgers).