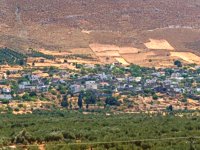 Geraki
(GR: Γεράκι). This lovely village of 375 inhabitants is located on the western slopes of the Lassithi mountains between the peaks of Afendi (1578 m) and Sarakinos (1588 m) in a beautiful glen, 520m above sea level and only 9km SE of Kastelli.
It was through this glen that in 1867 the Egyptian Pasha Omer crossed into Lassithi and destroyed the plateau, as the other entrances, in Ambeli and Tsouli Mnima, were fiercely defended by the Cretan rebels.
The name quite probably derives from some family name and is first mentioned in the Ducal archives of Chandax in 1394. However, recently, in a widening of the road, at an altitude of 1000m, two ancient swords were found indicating that the surrounding area has been inhabited a very long time ago.
Nowadays, you can see an interesting Byzantine church, dedicated to the Archangel Michael (Archangelos Michail) with wall paintings that have not been maintained and some interesting (movable) icons by the local painter, Sepis.
The active cultural centre of Geraki organizes all sorts of events during the summer season. Twice a year the village has a typical Cretan feast in honour of its patron saints: Agia Paraskevi on July 26th and Michail Archangelos on 8th November.
The village produces agricultural products and great cheese that led to a specific cheese celebration where, in a festive atmosphere, it is abundantly offered to the visitors.
From Geraki you can also reach the lovely chapel of
Agia Anna
, driving through a particularly beautiful landscape with a
spectacular view
over the Geraki glen and fresh running water, a place ideal for a picnic.
The distance from Geraki is around 7 kilometers.
View Agia Anna Location