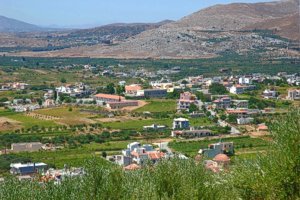 Kasteli
(GR: Καστέλλι) is a small town in the countryside of the province of Pediada.
It is distant 36 km from Heraklion and the route to follow is the one leaving from Heraklion and leading through Alikarnassos, VIPE, Peza, Aghies Paraskies and Kasteli.
Another route is the one from Gouves to Smari or else from Chersonissos, turning off right from the National road between Heraklion and Chersonissos. This is a lovely ride of about 14 km.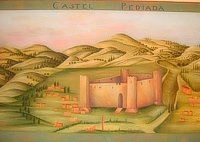 In the 1583 census, the village is mentioned as 'Pediada proprio' with 543 inhabitants.
The castle
that gave its name to the village was located on the small hill where the school
(Gymnasium) of Kasteli
stands nowadays.
Kasteli played a leading role as the county town of the province of Pediada. It was the commercial centre of that area and its important market attracted villagers from all around who came to sell their products.
The market survives to this day and takes place every Wednesday along the town's main thoroughfare.
Kasteli also played an important intellectual role in the area and its school provided education to all the children of the region, including the ones of the Lassithi plateau.
Today Kasteli has over 2000 inhabitants and all the facilities and public services its residents and/or visitors may need.
Many events are organized through the year by the municipality, the school and the cultural centre. In
August
a special festival, known as the
Feast of Xenitemenou
(ex-patriot feast) includes concerts, folklore, exhibitions and theatre plays. The last Sunday of the Orthodox
Carnival
is yet another occasion for a lively typical Cretan party.
Excavations that took place behind the church of Agios Georgios revealed the existence of a Pre-Minoan settlement.
In Kastelli there are four churches with Byzantine murals,
Afentis Christos
, Agia Fotini, Agios Georgios Revithiotis and Agios Ionnis Romanito.