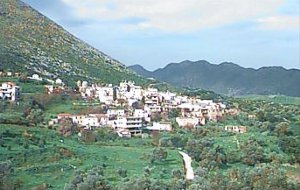 This is a pretty village in the province of Malevizi, in the prefecture of Heraklion, built on a height of 400 metres above sea-level and 20 kilometres to the west of Heraklion.
It is a lively village, with new houses and enterprising inhabitants who have no intention of abandoning their village. Marathos, in its beautiful surroundings, is famous for its tavernas with a rich and traditional cuisine. An interesting cave, Doxa, is located a little way from the village on the main road and a little further at the crossroads one can drive down the 7 kilometres to the village of Fodele.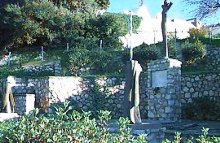 The War Monument, commemorating the many battles the island has suffered to conquer its freedom, was awarded a prize and was built by the famous sculptor Klinakis Yannis, who is from Marathos, and is located by the little wood on the main road.
Historical background
Fr. Barozzi refers to the village of Marathos in 1577 in the province of Milopotamos in the prefecture of Rethymnon and in the 1583 Register it figures as Maratto with 54 inhabitants and 144 persons on compulsory unpaid labour. In the 1881 census it is included in the Commune of Damastas in the province of Milopotamos with 146 Christian souls and in 1900 in the same Commune with 216 souls.
Finally in 1920 Marathos figures as a Commune in the province of Malevizi in the prefecture of Heraklion with 275 inhabitants. Through the years the following numbers have been recorded:
· 1928, 377 inhabitants
· 1940, 403 inhabitants
· 1951, 337 inhabitants
· 1961, 371 inhabitants
· 1971, 388 inhabitants
Marathos is located on a pre-historical site. A last detail: in the 1394 Register of the Duke of Chandax, there is a reference to a village Marathi, almost certainly the present day Marathos as there is no other village with a similar name in Crete.
THE DOXA CAVE
This historical cave is located at a short distance from the village of Marathos on the road to Heraklion. It is at a height of 490 metres above sea-level, near a well-known taverna also called DOXA.
Some steps lead to the entrance of the cave where a map describes the lay-out and notices provide useful information.
The cave has a total length of 50 metres and impressive stalactites and stalagmites, in particular in rooms B and D. There is also a kind of platform in the middle of the cave with basins and smaller but equally spectacular stalagmites. Doxa is a small cave but it is well worth a visit. Two precipices "O Tafos tou Lakkou" and "Xetripi" lie close by to the west of the cave.