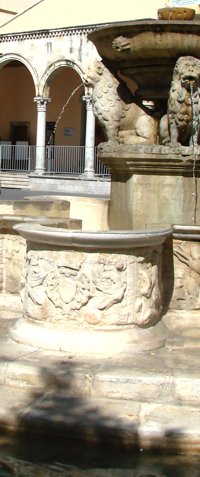 Morosini fountain
The so called Lion's fountain.
One of the most known fountains of Heraklion, point of reference for its inhabitants, but also for the visitors.
Today it is one of the most beautiful monuments of the city situated at the center of the most busy square - Eleftherios Venizelos sq. - of the town
The Venetian General Provisioner of Candia (Crete and Iraklion in Venetian times) Francesco Morosini ordered and supervised its construction in 1628. He managed to bring water from the Archanes' springs to the thirsty town of Heraklion through a complicated - for that period - system of pipelines and channels.
The eight-lobe cistern, which is based on a special stand, is decorated with embossed mythological depictions and maritime figures like tritons, dolphins and various coats of arms, while the water was flowing from the mouths of four lions. At the very top of the fountain there was a supernatural statue of Poseidon that was standing out but fell probably due to an earthquake.
During the Turkish period the fountain went into a vulgar modulation with the addition of a baldachin (ciborium) around it which was later taken away.
Morosini, on the occasion of the inauguration coined a special medal with his figure from one side and the fountain on the other.