The area of Adele is located in the eastern side of the town of Rethymnon stretching from the Adelianos Kambos (Plain) seashore to the northern side of Gargani hill top (641m) with the larger part of it being flat.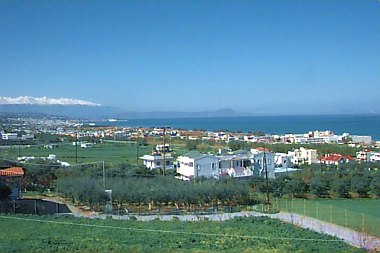 Adelianos Kambos - in the background the White Mountains

The people of Adele occupy themselves with traditional agriculture work, stock breeding and during the recent years with tourism business offering considerable services to all visitors.

Adele village is at a distance of approximately 8 Km east of Rethymnon town located on the road to the Monastery of Arkadi. It is a beautiful small village built in an altitude of 70m above sea level with a population of 350 people.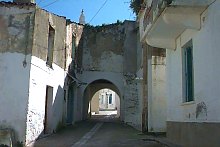 One can easily bypass Adele as the narrow streets are not suitable for parking a car though if one stops the reward will be great. Strolling around the village, through the narrow paved small streets the visitor will come upon beautiful picturesque house yards, freshly whitewashed houses, historical churches and tasteful traditional coffee shops.
Adele village along with the settlement of Agia Paraskevi close by are ideal for quiet summer and winter stay as there is adequate accommodation in reasonable prices especially during the winter time. The distance from the beach is only 3 kilometers and for those who love walking there are two attractive routes to choose from, leading to it.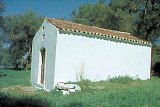 The church of Agios Ioannis with wooden temple and roof, renovated in 1905
The location of ADELE village is perfect to use as a base for various excursions throughout the island of Crete as its distance from the most famous island sights is very short.
Choosing to stay within these traditional and quiet surroundings gives the visitor a chance to taste Cretan Hospitality and get to know the history and the traditions of Crete.
Adelianos Kambos
(plain) is the seashore settlement of Adele community with a population of 566 people. The distance from Rethymnon town is approximately 7 kilometers.
The beautiful beach stretching just about 2 kilometers is perfect for water sports and at the same time gives great opportunity for swimming and quiet relaxation under the sun.
Tourism greatly developed
in this area offers plenty of high standard services that might interest the visitor. Also in the area exist fully organized hotel resorts in addition to many family run hotels.
Furthermore, Adelianos Kambos offers the visitor an opportunity for more intense holidays since there are many places to enjoy himself or taste the local cuisine. Many shops cover all needs for possible supplies and shopping.