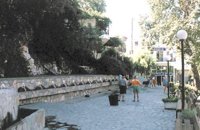 Spili (GR:Σπήλι) is 30 km away from Rethymnon, along the road that goes from Rethymnon to Armenoi and then Spili. The town has about 800 inhabitants and it lies at a height of 430 m above sea level, at the foothills of Mount Vorizi, which belongs to the Kedros chain.
The landmark of the town is the square at Kefalovrissi with the 25 fountains each one in the shape of a lion's head. The square is named after Thanassis Skordalos (1920-1998), a popular lyra player and composer born in Spili.
Spili is a modern town, with all the facilities and services required by the locals and by the large number of visitors.
There are old churches in Spili with wall paintings: Aghios Giorgos, Aghios Theodoros, the church of the Sotir and that of the Panaghia. The beautiful church dedicated to Saints Peter and Paul is nowadays the ecclesiastic see of Lambi and Sfakia.
There are two old mills close to the town of Spili which are in good condition and well worth a visit.
In Venetian times the town consisted of several neighborhoods and Spili is quoted in all the censi, Turkish and Venetian, including the Egyptian one. In 1881 it is recorded as the seat of the province of Lambi, with about 600 inhabitants. In 1900 it is recorded as having 750 inhabitants. From 1928 onwards, Spili became the name of the whole commune.