I was up and away from Kandanos by 0650 with the intention of meeting Susa at Elos, spending the night there and dropping down to the west coast next morning. However, it is good to be flexible.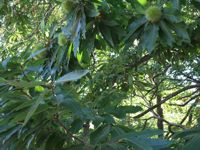 Chestnuts looking good
The verges of the road to Elos were full of "mellow fruitfulness" - I enjoyed handfuls of blackberries and a couple of the sweetest figs I have ever tasted. The sweet chestnuts were looking good for later, but as all over Crete the grapes had been badly spoiled by a very cold wet Spring.
I made good time on the tarmac roads between Kandanos and Strovles having decided against a cross-country route to Elos. Meanwhile Susa was closing in on Elos on the 0900 bus from Chania. At the last minute I realised that I could actually make it all the way through to Chrisoskalitissa that same day by 2 pm so I texted Susa to stay on the bus and get off by the monastery. A few minutes later the bus overtook me as I sweated up the hill to Elos and I waved as cheerfully as I could.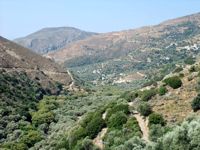 Coming down from Elos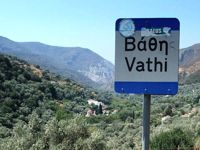 Passing Vathi
It was another three hours to Chrisoskalitissa but Susa was there to cheer me home - quite an emotional moment after months of training and effort.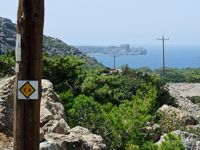 The first sight of
the west coast -and an E4 sign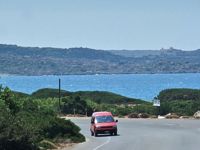 The monastery - middle right
After a beer at Stella's (just opposite the monastery), we went across and climbed the ramparts so I could throw my Kato Zakros pebble into the sea on the west coast.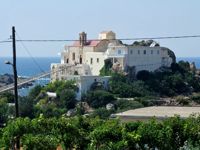 The monastery at Chrisoskalitissa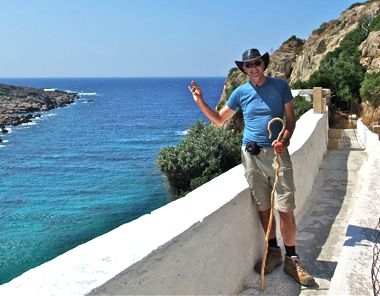 The pebble, the hat and the stick
We had a chat with Father Panayiotis and discussed relative levels of VAT and other worldly and spiritual matters before catching the Elafonisi bus back to Chania for champagne and a celebratory meal at Mesoyeiako.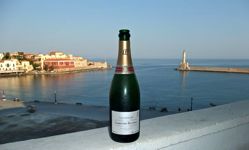 A suitable finish back in Chania
My odyssey was over - a brilliant experience and all the better for being relatively pain-free for the second half.

I hope that my experience will be of some help to others contemplating the same sort of adventure and that you will enjoy it all as much as I have done.