I set off from Spili at 0740 under a rather cloudy sky and with a cooling breeze to keep me feeling fresh. Today was always going to be a bit of a road slog and the first few kms to Mixourama was on the main road with cars flashing by. The GPS suggested that there was a road link between Koxare and Agouseliana even though there was nothing on the paper map so, after 6 or 7 kms, I cut across to Koxare.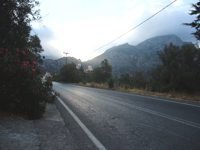 Looking back to Spili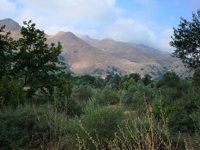 The view
The views back towards Spili and up left to Mt Kouroupa were wonderful despite the gloomy sky. From Koxare, and now back on the official E4, I then followed a level tarmac road all the way to Agouseliana where I found a very friendly cafe which provided orange juice and frappe and some excellent route advice. This eventually proved to be the exact path of the E4 (with the odd confirmatory sign) but which is not yet on the GPS nor the 1:100,000 paper map.
From Angouseliana, there is a delightful network of quiet roads heading generally northwest towards Arghiroupoli. It is the official E4 route passing through agricultural land and rolling landscapes.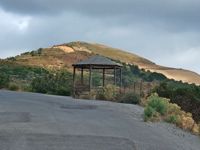 Looking back to Spili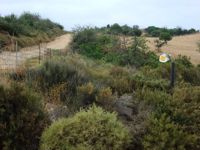 You do see the occasional sign
I declined the double gorge walk on the way into Arghiroupolis and chose the more direct route through Velenado. I was hoping to find a cafe here for a bit of a lunchstop but the first one I came to was very shut even though there were plenty of chairs and tables outside. So I sat down anyway and got my boots and socks off for a bit of fresh air on the tootsies. The dog on the other side of the road eventually got bored with barking at my every move and I was able to enjoy my dried apricots in peace.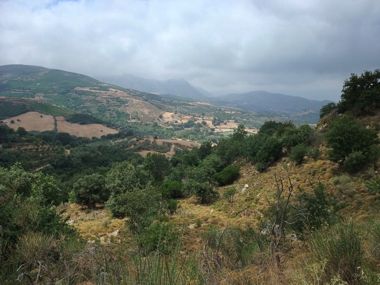 Looking towards Arghiroupoli over the hills in the distance
It was a bit of a slog from there to Arghiroupolis with the views down into the valley below increasingly spectacular. My rooms research had paid off and I got a great view from the balcony down to the sea near Georghiopoli on one side and foothills of the White Mountains on the other.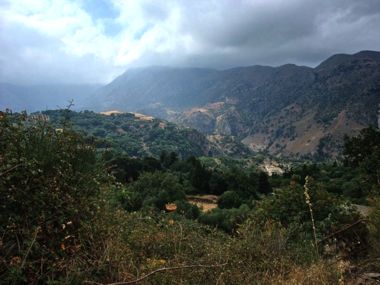 The valley below Arghiroupoli
This has been a wonderful day's walking through very varied and sometimes dramatic scenery ending in Arghiroupolis which is a really beautiful traditional village; much of the upper part has been lovingly restored and has quite a prosperous feel, less to do with tourism and more to with Rethymniot weekend retreats.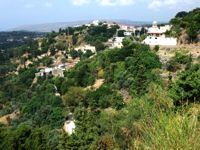 Arghiroupoli - the upper level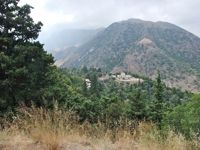 Church and graveyard
Rooms were €20 and a big evening meal with beer €16 - (Bulgarian assistant this time)