It all started with the 0630 bus from Chania to Heraklion ; while at the Heraklion bus station, I was accosted by Grant from Wellington, New Zealand who was here for Battle of Crete week and military history. He liked my Chaniotiko katsouna (shepherd's crook) and wanted to get one for himself.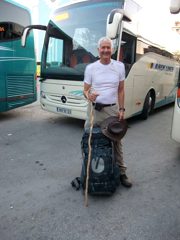 I said that knife shops (of which there are many in Chania – I don't know about Heraklion) usually have them.
Then the 1045 bus from Heraklion to Siteia – it paddled all thro Hersonissos and Malia and felt as if it would be very late. It left Ag. Nik. about 1230 but still managed to get into Siteia by 1410. The timetable published on the internet had suggested that there is a bus from Siteia to Kato Zakros at 2.00 pm, and I had rung to check that this bus would wait if there were people on the bus from Heraklion wanting to travel on. But .... there is no bus to Kato Zakros on a Wednesday (or a Thursday). However, the same bus was going to go on to Vai via Palaiokastro, so I stayed on till Palaiokastro and hitched with a couple of very chatty Polish blokes who took me out of their way to Zakros and I was there by 3.00 pm. Stage One had been accomplished.
I checked into the Zakros Hotel (18 euros) and left the rucksack in my room. Marcos (who is the hotel owner and who also farms 600 olive trees) very kindly gave me a lift down to Kato Zakros. I picked up two pebbles from the beach there and got the sole of my right boot wet enough to say I had paddled in the sea. "Dead's Gorge" (sic) is an easy 1.5 hour walk back up to Zakros – even easier without a pack.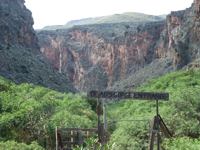 The gorge of the Dead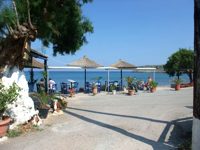 Kato Zakros
There are plenty of day walkers in the gorge but, amazingly, these were the last walkers I would see until I got to Dikti. That evening, I investigated the E4 path out of Zakros for the following morning – it starts a short way south of Hotel Zakros on the main road and is signed up to the right along with signs for old water mills and the like. You have to poke about a bit in the upper levels of Zakros to be certain of being on the right path but upwards and westwards is the key.