I was 9 km short of where I had wanted to be so I had some ground to catch up if I was going to manage Selakano that night and Dikti the following day, so I was back on the dirt road by 6.30 am. About 8.00 am I passed the monastery Panayia Vriomenou which also provided some level green areas suitable for a tent and where I had hoped to get to the night before. I was in Meseleri by 9.00 am that Sunday morning where the kafeneion was full to bursting with a 6-month memorial gathering and I seemed to be given a share of their breakfast meal without even asking.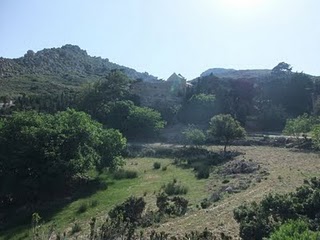 The monastery Panayia Vriomenou
It was then an asphalt road tramp via Prina to the turn off for Aghios Nikolaos church where I stopped for a breather before the slow ascent along dirt roads to 1,100 metres. This is a long but easy tramp with fabulous views down over Ierapetra and it is one of the routes into the Katharo Plain above the Lasithi plateau. The GPS certainly gave me confidence whenever I came to junctions and occasionally the fairies who put up the E4 signs reassured me as well. If ever there was a "walk of the gods" it is here, as it contours round under Chalasmeni Korfi at over 1,000 metres and becomes steadily greener and more wooded.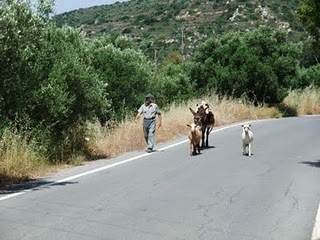 A familiar sight on the E4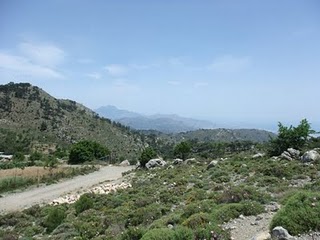 Dikti in the distance and the north coast
It has to be said that this is a very long section of dirt road and there is no easy source of water up here – there are shepherds' houses along the way but they didn't seem to be obviously occupied and their dogs certainly weren't going to let me in to fill up my bottles. However there was water eventually in the river running down the gully in the Selakano Forest and it tasted clean enough.
As I hadn't been able to contact Kyria Stella on her landline in Selakano, I wasn't 100% sure that there was going to be a bunk there for the night.
However I had read up Loraine Wilson's (LW) instructions for finding the start of the path off the dirt road and down through the Selakano Forest and was ready for a good beer or two at the bottom. It all looked so easy on the map. But the path sadly was not marked on the GPS and things are never quite that easy – there had been fires in the area recently and too few people had been walking the E4 path through the woods to keep it obvious on the ground. Additionally, the wet spring had led to an explosion of greenery everywhere, further obscuring clues.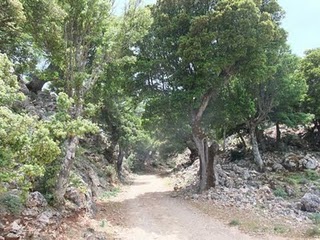 The path becomes greener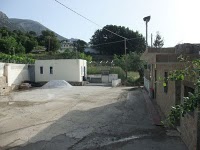 The bunk room in Selakano
- it can sleep six people comfortably
So I kept to the left of the watercourse as instructed by LW and followed a line on the GPS which would get me to the dirt road which leads into Selakano. It all took much longer than I had hoped and at the end of a long day the legs were certainly tired. A volley of stones at an aggressive stray dog (I missed) helped me feel better and by 6.00 pm I was being reassured by Stella and her son Nikos that there was a bed for the night in the bunk room (10 euros), for which Stella has the key. There was also a super meal of goat and greens and soon the pain of nearly 40 km started to subside. (Stella's mobile is 69457 70055.)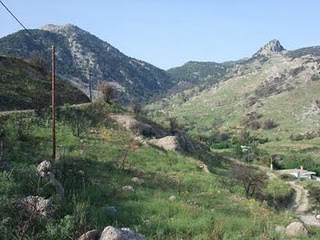 Looking back at the descent through the Selakano Forest (top centre of picture)