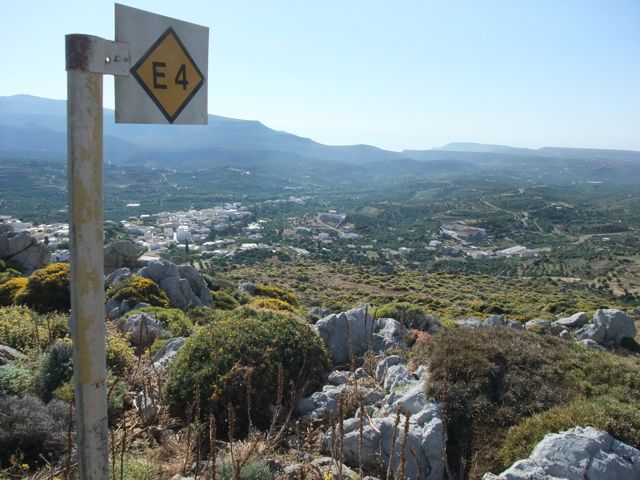 Looking back over Zakros
This is a fabulous start to the main walk, especially the first part from Zakros to Ziros across the high plains at about 700 to 800 m. The climb up out of Zakros on the old mule track (kalderimi) is gentle even if a bit broken and a bit overgrown in places. You pass the beautiful and remote church of Aghios Georgios set in the middle of high pastures – particularly green this year because of the wet spring.
There is a lovely monument here to those locals who died in the last war.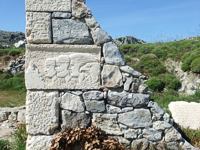 the monument to the fallen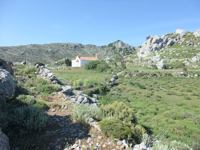 Aghios Georghios church
Somewhere in the middle of Psilo Kefali there is a stock fence with a gate for E4 walkers. If you have deviated off the path at all you will need to get back on it here in order to get through this obstacle. E4 waymark poles are few and far between, but there are a few cairns at critical points. Beware – one goat path looks much like another and so does the E4 !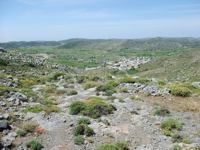 To vori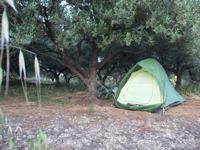 Campsite near Vori
You then drop down into Ziros. Ziros seemed rather surprised to see a walker but nevertheless managed to provide a soft drink in the shade. I soon realised that, with no orange groves at this end of the island, getting a freshly squeezed orange juice is not as straightforward as it is in the west of the island.
The road walk on to Chandras is a bit tedious, but is rewarded with an excellent opportunity for refreshment at The Lemon Tree. An English couple Anita and Mark have done up this place right on the main road into Chandras. Anita had spotted the lone walker on her way home from picking the kids up in Ziros and had sent Mark (excellent chef) off to get food in anticipation. This is not an omelette and Mythos moment, it is a perfectly cooked and presented fish with Kaiser moment (15 euros). They do rooms as well, so potentially this is also somewhere to stop for the night especially if you have started the day at Kato Zakros (28430 31066 / 6978817210).
There is an unofficial shortcut dirt road (shown on the map but not on the GPS) running northwest from Armeni which cuts out Etia and a corner of the main road, but once back on the main road it is a slog down to Vori (bypassing Papaghianades). I had earmarked somewhere round here for my first night of camping so I walked into Vori to top up with water for the night. Vori is several steps back in time – it reminded me of the Anatolian villages described by Geoffrey Eumenides in his book "Middlesex". Anyway there is a village tap where everyone seems to get their water and I was welcome to use it.
There are lots of olive groves either side of the track running westwards along the E4 (unmarked here) down into the valley from Vori, so I found the scruffiest - and least likely to be tended in the cool of the evening - and relaxed for the night, disturbed only by the occasional barking dog and planes going into the new airport at Siteia.