Chapter Three: Four Days of Rest.
Part Two: Chania to Kato Zakros.
Sunday the 11th of May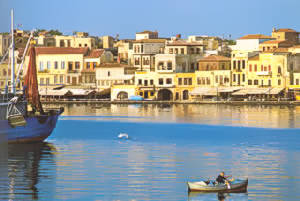 40 winks later, and it was 7.30AM. It's remarkable what a day off the hooch will do to a chap. I felt thoroughly refreshed, though still a little weak. I swung myself out of bed, made myself a coffee, launched myself onto the balcony and watched the early morning parade along Chania's harbour front. I was desperately trying to come to terms with what I had lost on this trip so far. In terms of possessions these included a torch, an address book and a 'dictaphone', with which I had been recording parts of the walk for posterity. Heaven knows where I had lost that! My phone was dead. My sanity was questionable. At least my comrade and camera were still with me.

Looking back on the Soughia walk, I decided that I had done the sensible thing in returning to Aghia Roumelli. Here, in a couple of senses, lay my problem: I appeared capable of a bit of common sense or a sense of direction, but apparently not both simultaneously! I looked at my itinerary. I had written this projected agenda of events before I had known that Rex was going to join me for the trip, so it was somewhat outdated and included such details as which bus I was hoping to take. Nevertheless, on Sunday May the 11th, I'd intended to be sitting on a balcony of the hotel Amphora at around this time. And where was I? Quite! Things were going to plan - if not entirely the way I'd planned things! According to the itinerary, I absolutely had to be in Siteia this afternoon. Why? Siteia would still be there tomorrow, wouldn't it? It would be better if Rex and I stayed in Malia tonight, if, as we suspected, one of the bars there would be showing a live match from the final day of the English football season. Something nagged at the back of my mind. I am used to these nagging feelings. I am also used to ignoring these nagging feelings; ignore them I did.

Rex joined me on the balcony at around 9.30 AM. He and Virginia had spent last night being chauffeured around the Akrotiri by our friend Stelios (pictured). They'd had a whale of a time, with Rex arriving back at our hotel at around 1AM. Stelios is a cracking chap. I'd first met him a couple of years ago after a long correspondence (mostly in the Interkriti chat-room). He is a man for whom I'd usually have had a great deal more time than the few minutes we'd spent together last night, but we'd get to share a beer or two next month. The two volume 'Travels and Researches in Crete' (1865) by Captain Thomas Abel Brimage Spratt, that I'd lent Stelios are the most valuable items that I own (other than Arthur Evans' four volume 'Palace of Minos' and the original Phaistos disk). Stelios wanted to photocopy them; he had a month in which to do so before I returned to Chania. I wouldn't trust many people to look after these books for one minute, never mind a month, but I knew they'd be in safe hands with Stelios. Captain Spratt visited Crete in 1851 to continue Captain Graves' 'Mediterranean Survey', and returned after the Crimean war (1853-1856) to recommence these explorations. If you can't afford the £1500 that these books tend to fetch, an alternative is to read Johan de Bakker's superb 'Across Crete' This is a projected three volume book. Geographically arranged, Part One covers the area of Crete between the cities of Chania and Herakleion, and includes wonderfully edited extracts from 18th and 19th century British travellers: T.A.B. Spratt, Robert Pashley, Edward Lear and Richard Pococke. I shall be quoting passages from the first three of these authors later in the walk (I have reprints of Pashley and Lear), and Pococke shall also get an airing once I get to the area covered in Johan de Bakker's book, as his two volume 'Descriptions of the East' is one of the few titles, regarding Crete, that I don't own.

Rex had spent the last few minutes in the bedroom, on the 'phone. Talking on it, that is. He now rejoined me on the balcony. "Everything OK?" I asked him. "I have to go back to England" said the boy. "Eh"? Surely some mistake! "I have a job interview to go to", he added. Here was the solution to my problem. Well, it would have been the solution to yesterday's problem. 24 hours earlier I had been sitting on this very same balcony, desperately trying to work out how to tell Rex that I had decided to join an order of trappist monks (as their talkative representative!) and that I wouldn't be walking the island as planned. Rex was to have been my back-up team, and I felt that he might have noticed if the walking part of that team didn't turn up. Of course, this had all been before Jean had put the groove back into Stelios. Now, I was raring to go...well...willing to give it a go, at least. As my friend explained the reason behind his earth-shattering announcement, yesterday's troubles seemed so far away. Before coming to Crete, Rex had learned that he would be taking over his daughter's job - on a temporary basis - whilst she gave birth. The baby was expected at about the time Rex and I were due to return to England, so he hadn't felt the need to mention the job to me. Now he learned that he was required to show his face at an interview in Central London, on Thursday week. He would have to catch a flight from Chania in nine days time. My first thought was selfish, as were my second and third: What would I do without my back-up team? I had been utterly useless for the brief time I had been alone on that hill with its lonely goat herd! What was I to do with the car that I had hired until the 17th of June? Tow it along behind me? Who would keep me company on nights such as the one in Soughia? Rex had to return to England. Of course he did. "OK mate", was all I could say. There was something about this trip that was doomed. I tried not to let Rex know how disappointed I was at learning his news.  I entered the bedroom, and looked into its large mirror in an attempt to steady my nerves.  "Come on Stelios!", I said, summoning up every morsel of determination I could muster. Nope, that didn't work. I looked across the room at my camera. At least I still had my Nikon Coolpix 5700. As much as I loved my camera, I still preferred Rex. He was better company and would even occasionally buy me a drink. I redoubled my efforts to pull my fractured mind together, this time flexing huge - and entirely imaginary - biceps at the mirror: "Come on...are you a man or a mouse?", I squeaked.


To Malia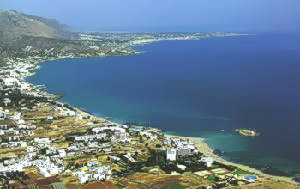 There was a possibility that Adam might join us for the drive to Kato Zakros. He knew where we were and we had told him that we would be leaving the hotel at 11AM. It was now approaching noon. Back in England, Adam and I had discussed the possibility of him doing some of the walk with me. I like Adam, but before Rex dropped his bombshell, I had planned to do the walk on my own. I find it impossible to walk at someone else's pace, and with all due respect to Adam, my pace would have been extremely quicker than his. Originally another friend had wanted to accompany me for the whole walk, but due to circumstances beyond his control, John hadn't been able to make it. Suddenly I craved Adam's company. This too was a selfish emotion. Adam didn't show. We headed for the car. We both wanted to watch the football, and were pretty certain that an English 'Premiership' game would be shown in Malia. Rex drove us to Malia (occ. Mallia). It was Sunday, and the roads were practically empty. Without speeding we passed Rethymnon within 45 minutes, Herakleion within an hour and a half, and arrived at Malia, just over two hours after setting-off from Chania. We parked the car on the main road that leads to Aghios Nikolaos and headed down 'bar-street' to see if we could find a place to watch the football. It was 2.30 PM.  Malia is a resort, predominately visited by Brits. They were bound to be showing at least one of the games, though I very much doubted if West Ham's game - at Birmingham City - would be among these. Oh me of little faith! The second "pub" we came to, advertised two games being shown live. Liverpool's top of the table clash with Chelsea (go on you 'pool) and, remarkably, West Ham's game at Birmingham. We had plenty of time before the game, and if we were to be drinking, then we'd have to spend the night here too. I was tempted to return to Malia's archaeological site. It had been 10 years since my last visit to the Minoan 'palace' of Malia, and the site - run by the French School of Archaeology, originally in co-operation of the German School - is not only worth visiting, but also ongoing. Instead we chose to wander around the old town for a while. This is on the other side of the main road from the more upbeat part of Malia, though it feels like it could be on the other side of the universe. A wander around the streets, brought back memories of the two days I'd spent here a decade ago. I like the old town, but I am not a great fan of the new one.

As 'The Lonely Planet Guide to Crete' - comparing Malia to nearby Hersonissos - says:
Malia boasts 150 bars. My sort of place you would have thought? Well, no, not really. Malia is probably a great place for a family holiday. The beach is nice and I'm sure there's plenty of entertainment for the kids, but not the kid in me. There is a ' Macdonald's' here. It fits right in with the rest of Malia's 'bar street' (there is one in Rethymnon too, which is totally incongruous); No, not my sort of place at all. I suppose this is what some people want from a holiday. 'Horses for courses'.


---
More footie (click to avoid)

We stopped off at a taverna and I managed to eat; in fact I managed to eat quite a lot. My appetite was back with a vengeance. 15 minutes before kick-off we entered the bar where we had seen the games advertised. A couple of beers were ordered, and we waited to see the football. A barmaid asked which game we wished to see and we told her. A look of total bewilderment crossed her face, before she informed us that the Liverpool v Chelsea game was being shown here, but to take our drinks to the bar opposite, where our preferred game was being shown. This we did. Kick-off was imminent, but the staff couldn't tune-in to the correct channel. We were told that this was not a temporary fault, and with utmost decency the money Rex had paid for the beers in the bar opposite, was returned...to me. A result! We found another bar showing the West Ham game, further down the road. A couple of friendly Birmingham City supporters joined us and we were all set for the off. For West Ham to retain 'Premiership' status (and most of our players) we had to win this game, whilst hoping that Bolton Wanderers didn't win theirs at home to Middlesborough. I had hopes. I had high hopes. I had 'high in the sky, apple pie hopes'. It didn't help to learn that Bolton had taken an early two goal lead, but for a moment in the second half there was real hope. I prefer the flying apple pie variety. Middlesborough pulled one back and West Ham took the lead in quick succession. I had faith! I shouldn't have. Of course West Ham absolutely annihilated Birmingham...two-two. I have never seen a more one-sided game, but Birmingham scored from both of their chances, and West Ham were relegated into 'Nationwide League, Division One'. I looked for charity, but received little from my Birmingham friends, though they did buy me a drink. Thankfully Bolton had hung on to their slender lead; it would have been unbearable if we'd only drawn this match when a win would have saved our Premiership status. To make matters worse, Liverpool lost to Chelsea. To the winners of that match: a 'Champions League' place, a Russian billionaire (bring back the USSR!) and two of West Ham's best players; to the losers, a Uefa cup spot and a chance to start all over again the following season. It's tough at the top; smelly at the bottom. West Ham of course would bounce straight back up...wouldn't they? Well, I was sure we would if only we could keep hold of our players. They're a fickle bunch footballers. I am lumbered with supporting West Ham United for the rest of my life. Seven (count 'em), seven of our first team players of season 2002-2003 were later to desert the sunken ship 'West Ham United' quicker than you can chant Borussia ("give us a 'B'...") Mφnchengladbach, to join a Premiership team. Rats! If ever a side was "too good to go down", this was it. As I type we still have England's number one goalkeeper, in David James, and one of the most exciting young strikers I have ever seen, in Jermain Defoe, as well as others, including the Scottish centre-back (and Presbyterian newspaper?) Christian Dailly. Not all is lost yet, though I fear for our future. Usually 40 points are required to avoid relegation from the 'Premier League'. West Ham had achieved 42 and had we beaten Birmingham (as we jolly well should have) it would have been 44 and still we would have been relegated. Oh well, at least we'd "done the double" over Chelsea. Our Brummie friends were as pleased as punch that their team had ended the season ahead of their arch-rivals, Aston Villa. I drank to that. I was pleased for them. Really I was.
---
To Aghios Nikolaos

Rex and I had decided that we would leave Malia as soon as the match was over, and head for Aghios Nikolaos that evening. This meant one of us had had to abstain from alcohol. Given my still delicate state of health, it should have been me really, but in a hurriedly convened plebiscite - in which I was the only voter -  Rex was elected 'designated driver'. He's a good lad. I'd allowed him that one beer in the first bar, though unfortuantely he hadn't had time to drink it all, before I'd whisked him off to another bar, where I bought him a coffee. With his money. I'm the kind-hearted type. We now piled into the car, and off Rex drove. It was dark by the time we reached Aghios Nikolaos.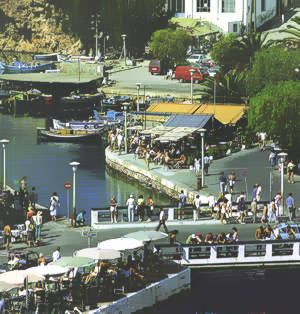 This was the place that I had stayed on my first visit to Crete, back in 1977. It had changed dramatically. Ignore the guide books. The Rough Guide has been regurgitating pretty much the same copy for years. Aghios Nikolaos is no longer the bar and disco paradise I had loved so much at the age of fourteen. No, Aghios Nikolaos is now far more sophisticated; as am I. We booked into the hotel 'El Greco'. A nice enough place to spend a night. We ate a hearty meal and went looking for somewhere to find a drink.

O.K. The guide books have a point. There are no lack of places to imbibe in Aghios Nikolaos. However, I knew the place that I wanted to find. Steve and Viki run a pub called "The Fluffy Duck". I am not usually into 'pubs' when in Greece (or pubs called "Fluffy Duck", anywhere, for that matter) but I had communicated with Steve a couple of times and thought it would be nice to meet up. We found the pub, just off the main drag. Well at least we found its second floor balcony. I couldn't for the life of me work out how to get into the place. Rex decided that the entrance must be on the other side of the building. And indeed it was! What would I do without Rex? Really! What would I do? We spent a happy couple of hours talking to the assembled Brits, playing pool and drinking a fine bitter. As I say, this isn't usually my kinda thing, but I thoroughly enjoyed my time here. Steve and Viki are charming hosts, and I was disappointed when the bell went for last orders(!). Saying that, I wanted to get an early start the next morning, as Siteia needed to be visited before we headed to Kato Zakros.



Monday the 12th of May

To Siteia.

We awoke early the following morning, and had a wander around Aghios Nikolaos. I bought a snazzy new pay-as-you-go mobile 'phone, and charged it up with €72.00 of credit. I couldn't use it of course, it would need to be electrically charged overnight before I could ring Rex (his was the only other mobile number that I knew). We jumped into the car and took the road towards Siteia (occ Sitia). On the drive there I looked at the imposing mountain ranges that I would have to cross if I were to walk this island. Crete has five mountain ranges; three of these peak at above 2,000 metres. The road out of Aghios Nikolaos takes a southerly direction to begin with, before it heads East. At first, the mountains to our right (West) were the Dikteian range. As I looked at these mountains a chill hand clutched my bowels (a warm hand is prohibitively expensive!). I was scared of what lay ahead. I looked at the map and wondered whether I could circumvent the Dikteian range. Without walking along the coast, this seemed impossible. I could head for Kritsa, but then I'd be in a similar position to the one that I was worrying about. Rex would be leaving me in a week's time. By then (the 19th of May) my itinerary had me in Selakano, just East of Mount Dikti. That day's walk would be really tough and one that I was particularly worried about. My destination, from Selakano, was to be Aghios Georghios on the Lassithi plateau. There is precisely nothing between Selakano and Aghios Georghios other than mountains. This looked a similar walk to the Soughia one - which I had failed so miserably on - only elevated by 1,500 metres or so. Mount Dikti itself is 2,147 metres tall, and it looked as if I'd have to get most of the way up it on that walk, and the chances of the route being way-marked were extremely unlikely. I was almost certain to find accommodation in Lassithi, whether or not it was at Aghios Georghios, but almost certainly not at Selakano. If I could get to Chandras tomorrow, rather than Ano Zakros, I would have gained a day. That way I could be in Selakano next Sunday, when I'd still have a Rex and a car to whisk me off to an hotel for the night. It was a cunning - though somewhat short-lived - plan. As the road swings East and we passed Pacheia Ammos, the mountains to our right (South), were now the Thripti range. I had walked part of this range before, but couldn't remember them looking quite as imposing as they now appeared to this passenger.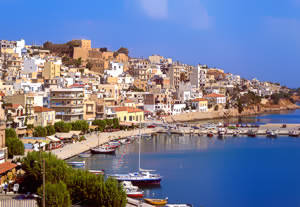 I like Siteia. I like it a lot.
Siteia is a quintessentially Greek town with extremely friendly locals. The tourist facilities are good, but it is not a "tourist town" the way that a number of other places on Crete are. You get the feeling that Siteia would get along fine without any tourists at all. It has a laid-back atmosphere and it's a great base to explore the far Eastern end of the island. The town beach isn't bad either. I'd highly recommend at least a couple of days stay here. This is the birthplace of Vitzentos Kornaros, author of the epic 17th century Greek poem, Erotokritos (this latter site is in Greek only) scourge of A' level Modern Greek students during the 1980's. I would have liked to have met up with a couple of people whom I know here, but I just didn't have the time or any way of contacting them. One of these people is a regular Interkriti contributor, called Kostantinos (Kostas or Dinos for short, and 'East Cretan' occasionally too, on Interkriti's bulletin board).

Since Rex's announcement the previous day I had become increasingly determined to start the walk, as soon as possible. Rex would have to drive back to Chania in a week's time, and I needed my support-driver with me, for as much of the walk as he'd be around for. I looked at my itinerary again. I had been most insistent that I should have been in Siteia yesterday. Why? My main reason for wanting to visit Siteia had been to see the archaeological museum. This is a fine museum. One of the world's largest collections of linear A tablets reside here, but, more than anything, I had wanted to see the wonderful "Palaikastro Kouros" (click on the picture, to find out why I have fallen in love with a three and a half thousand year old, half a metre tall, gold and ivory - chryselephantine - sculpture of a man...or, according to some, Zeus).

 We arrived at the museum and looked at the opening hours. In common with most Greek museums, the one in Siteia is closed to the public on Mondays. It was Monday. I had achieved my aim of seeing the museum, but really I'd have preferred to have seen the inside. I am old-fashioned in that way! I could see the kouros through a window. Iron bars partially obscured this view, but at least I could say that I'd seen it. There were a few staff members loitering inside. One of them opened the door to leave. Rex motioned me towards the lady. "Go on, ask her if we can take a sneaky look inside the museum", he said. I couldn't. I just couldn't. The lady smiled at us, and I smiled back, incapable of speech. A sudden dawning of realisation swept over me. That was why I had been so insistent of being in Siteia yesterday! The hyperlink on my itinerary page would have have told me the museums opening hours. Sadly, hyperlinks don't work on a print-out! "God give me strength!" I looked at Rex. I still couldn't speak. Rex looked at me. He too said nothing; he didn't need to. He was busy etching the words "stupid boy" onto my forehead, with his eyes.

Another reason for our being in Siteia as early as possible, was to visit the site at Palaikastro, a few Km's East of here. This was where the 'kouros' had been discovered. I had attended a lecture on the site and its discoveries - a couple of months before leaving for Crete - at the Hellenic Centre in London, organised by the British School At Athens, who run the dig. The site's excavators - Hugh Sackett and Alexander (Sandy) MacGillivray, each gave a talk accompanied by a slide show, on various aspects of the ongoing dig. They both delivered hugely interesting talks, especially Sandy MacGillivray who wowed the assembled with talk of the 'kouros'; Palaikastro's links with 'Dikteian Zeus'; the possibility of finding a 'palace' at the site. I managed to talk Sandy after the lecture and he was charm (to my sycophant) personified. We discussed my walking plans (nothing unusual in that; as I've told you, I talked to everybody about my walking plans in the preceeding months). He seemed very interested as I went on at length (everything unusual in that. People tended to come-over all glazy eyed whenever I rambled-on about the forthcoming ramble - go look in the mirror, now, you'll see what I mean - of course that never stopped me!). I had wanted to visit the archaeological site at Palaikastro, but it wasn't going to be open to the public at the time of my visit. Sandy invited me for a private viewing. This was fantastic. I wrote down Sandy's mobile number, and before leaving for Crete, entered this into my mobile 'phone and my address book. My mobile 'phone was dead and my address book was probably on a hill somewhere North of Rodakino. I had no way of contacting him. Unless I had entered his number on my on-line address book. "Oh please God, tell me I'd had the sense to do that". I had to find an internet cafe. Rex wanted to find a launderette, for what he charmingly referred to as his "crusties". We both wanted to eat. Tucked behind the seafront we found two of the things we were looking for. An internet cafe first, where I checked my address book. Sandy's number was not there! Damnit! Rex was as distraught as I was to learn this. We ate. Siteia has an abundance of excellent tavernas, among the best is the 'Kali Kardia' (Good Heart). We didn't eat there this time, but I would highly recommend it. We looked for a launderette. We searched high and low for a launderette. We couldn't find a launderette anywhere. Just as we were about abandon hope, I asked a lady if she knew of one, and she replied that there was a " pleintirio" (launderette), opposite the "Dimarkio" (town hall). We found the Dimarkio, and opposite, there it was. A car-wash. As open as the town's museum. With the museum shut, and no sign of a launderette we decided to take our leave of Siteia. With not a shoemaker in sight, the word "cobblers" issued forth from my mouth. I have no idea why.

Oh yes, before we leave Siteia, remember my "cunning plan", of a few of paragraphs ago? The one where I was to walk to Chandras rather than Ano Zakros tomorrow? Well, that plan was to change again! Due to my rank buffoonery in the museum opening hours department, I decided that instead of walking to Chandras tomorrow, I would stick to my itinerary and walk up the Zakros ('Valley of the Dead') gorge and stay at Ano Zakros, as planned. That way I would start with a couple of gentle walks and still be at Chandras on the day my agenda told me I should be; allowing Rex and me to drive from Ano Zakros to Siteia tomorrow afternoon for a better look at my 'kouros'.This didn't solve the problem of the Selakano to Aghios Georghios walk, but I decided I needed to encounter these problems as I stumbled across them, rather than try to pre-empt them. I had already discovered that no amount of planning could prepare me for what lay ahead.


To Zakros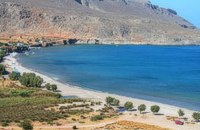 We decided to head immediately to Kato (lower) Zakros. The road takes you East of Siteia skirting the coast, past a newly built 'holiday-village' - which looked horrendous - and through the attractive, modern-day village of Palekastro (often transliterated this way rather than the 'Palaikastro' of the archaeological site; no idea why) before you arrive at the village of Ano (upper) Zakros. A quick stop to check out whether the Zakros hotel was open and that there were rooms available for tomorrow, and down the road we pootled to the lower of Zakros' two villages. The village - whilst very small - boasts a half dozen tavernas, a night-club (a very small and rather quaint looking place this, but a 'night-club' nonetheless) and any number of rooms for rent. After much debate, Rex and I decided to stay at the 'Coral Rooms' which is at the far end of the bay. Nikos, the owner of the attached taverna ('The Akrogiali') showed us to our room, and asked us if we wouldn't mind eating at his taverna that evening. We wouldn't mind at all. It would be our pleasure, and so it was to prove. Kato Zakros is a nice place to spend a few lazy days, though if you do find yourself here, make sure to bring any provisions you may need, with you. There are no shops here at all, though necessities such as water are available from the tavernas that line the bay. We drank a couple of beers. Rex was running low on cigars. We were over the limit to drive back to Ano Zakros. I asked Nikos if there was anywhere around that sold such things. There wasn't, but he had a friend coming down from the other Zakros later, and he asked what we required. We placed an order for Rex's smokes. Before eating, I decided to check-out the opening hours of the archaeological site for tomorrow. I was pleased - or perhaps surprised - to learn that it would be open. The meal was superb; the cigars arrived as soon as we took our seat. What a great place. After eating, Rex and I sat on the communal balcony of the Coral Rooms and read for a while. At least I tried to read. I had gorges on my mind. Tomorrow, I would walk up the Zakros gorge to Ano Zakros. I had walked this before, albeit in a downward direction. I was confident that this would be an easy stroll. I tempered my confidence with the realities of my experiences thus far. The last time I had walked this gorge had been 14 years previously and that had been in a downward direction. I couldn't remember any detail of that walk, whatsoever. Was that a good thing? Surely if it was in the least bit tricky I would have had some recollection of it, wouldn't I?

Well, tomorrow I would find out. I took these thoughts with me to bed, and for the fourth night in a row, had the most peculiar dream concerning trombone-playing goats. Strange times indeed.