The Municipality of
Tymbaki

GRIGORIA
| | |
| --- | --- |
| entering | Moulali's Mill |

Grigiria is a small mountainous village built at 420m a.s.l. on the southern side of the mountain Psiloritis.
It has 394 inhabitants and is mentioned in all Venetian censuses.
The name of the village comes from the word "grigoros" (=fast).


---
KLIMA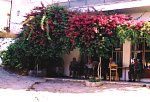 traditional "kafeneion"


This village with 366 inhabitants is mentioned by Barozzi since 1577.


---
LAGOLIO
| | | |
| --- | --- | --- |
| panoramic | The school | The fountain |

Lagolio stands 4,5km north of Timbaki. It is first mentioned by a Turkish census in 1671.


---
KALOHORAFITIS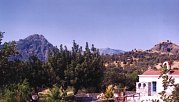 Agia Fotini
On the left is "Timios Stavros" and on the right "Koules"
---
MAGARIKARI
| | | |
| --- | --- | --- |
| panoramic | Koules | Fragiadakis "fabrica" |

Magarikari is located on the South - western side of the mountain Psiloritis at 450m a.s.l. in a forest of more than 500 ha. It is a rich and picturesque village with plenty of natural beauties and a wonderful view to the valley of Messara, the mountain range of Asterousia and the Libyan sea.
Magarikari is the birthplace of the famous rebel Petrakogiorgis, and was totally destroyed by the Germans during the German occupation.
It is mentioned by the Venetians since the 15 century A.D.


---
KAMARES


A little after Grigoria, at 600m a.s.l., is located the historical village of Kamares with 491 inhabitants. This village was destroyed together with the villages Magarikari and Lohria, by the Germans during the world war II (1944) due to the help that the locals used to offer to the partisans.
Above the village, at 1524m a.s.l. lies the famous CAVE OF KAMARES (Spileon Kamaron). This was used as a place of worship during Minoan times and it was here that Minoan pottery made with exceptional skill was found - called "Kamares ware" by archaeologists.
From Kamares is also possible to climb up to the Idaion Andron.


---
FANEROMENI
| | |
| --- | --- |
| Old quarter | Gavalas ' cave |

Old village of the municipality of Timbaki with 837 inhabitants. It is built on the right bank of the river "Katsoulidis" in a wonderful green landscape with large groves of citrus trees.
The near by church of "Panagia faneromeni" gave the name to the village.
Various findings from tha ancient times such as a double axe. were discovered in the area.
The churches of "Agios Antonios" and "Panagia" were violated by the Turks in 1866.