The municipality of
Gramvoussa
The municipality of Gramvoussa is west of Kastelli Kissamou, includes the major part of the penninsula of Gramvoussa and the islands Gramvoussa and Agria Gramvoussa, and consists of the 10 villages listed below:

Agios Georgios (116)

Azogiras (38)

Gramvoussa (131)

Zerviana (110)

Kaliviani (128)

Karefiliana (68)

Neo Horio (78)

Piperiana (37)

Trahilos (103)

Fournados (28)



GR text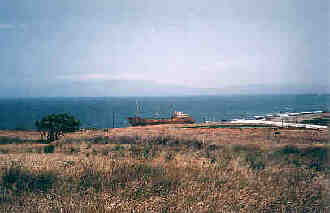 A story about a shipwreck


At the exit of the village of Kaliviani on the road to Balos, there is a huge ship standing on the beach.
In accordance with the locals during a great storm, 10-12 years ago, a Lebanian ship had to moor near the shore due to a malfunction to its engines.
The ship went astray when its cables cut, and can be seen today lying on the shore.