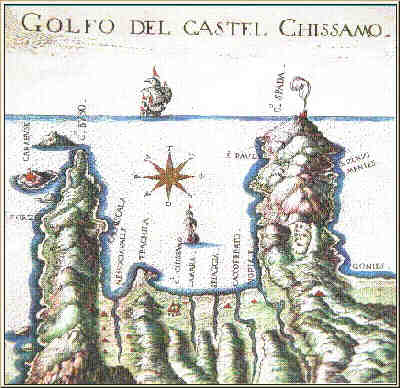 The county of Kissamos is the westernmost county of Crete. It is part of the prefecture of Hania, extends over an area of 535 sq. kms and the capital is Kastelli Kissamou.
Contrary to most of other comunities in the north coast of the island, the economy of the county is still primarily based on farming and stock breeding, and less on tourism. Although the coastal communities of the county have some tourist facilities , these are by far much less than those in other areas.
Production
The locals have been blessed with fertile plains, plenty of water and high mountains. The wine produced by the locals in their own vineyards, using the Romeiko variety of grapes, is world famous and known by the name of the location Kissamiotiko.
There are more than 1.5 million olive trees in the county , producing olive oil of excellent quality, plains were citrus fruits and horticultural products thrive, and more than 50000 sheep producing more than 500 tons of excellent quality cheese (athotiros and gruviere).

Access
There is regular public bus service from Hania to Kastelli Kissamou the capital of the county, and Kolibari.From Kastelli Kisamou there is daily bus service to most of the villages and the sites of the county.
From the harbor at Kastelli Kissamou there is a ferryboat service to Gythion (Peloponnisos) and Kythira once a week.
T he county of Kissamos has a fairly extensive road network that covers all its villages and sites.

History
The area, being one of the most fertile of the island, has been settled since the early neolithic times. Numerous findings all over the county (Polyrinia,Mithymna, Falassarna, etc.) provide a cross cut view of the history of the island through the aeons, and the struggles of the locals against all invaders.