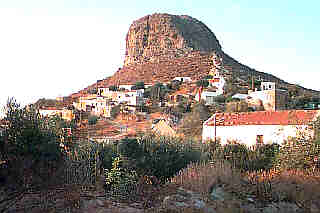 Rokka


GR text
The village of Rokka is located 15.5km away from Kastelli Kissamou, and 35km from Hania on the road to Faleliana- Rokka, at an altitude of 210 m. a.s.l and has 292 permanent residents.
It is the seat of the municipality which also includes the village of Kera, with 68 permanent residents.
On the hill, which is overlooking the village, there are ruins of a Byzantine fort, with remnants of cisterns and buildings. The Venetian name of the fort is "rocca" and that is the reason why the village is called nowadays Rokka (with double "k").