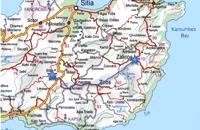 E4 Trail: 02. Zakros to Vori
Richard Ellis walk: Day 2
2nd June - This is a fabulous start to the main walk, especially the first part from Zakros to Ziros across the high plains at about 700 to 800 m. The climb up out of Zakros on the old mule track (kalderimi) is gentle even if a bit broken and a bit overgrown in places.
Distance:24.1 km
Time: 8 hrs. 40 mins
Mov av 4.4 km/hr
Height overnight: 260 m.


E4 Trail: 03. Vori to Orino
Richard Ellis walk: Day 3
June 3rd - ...The short, direct, one marked with E4 signs ends in an olive grove with no way out ! You keep climbing on the basis that you will meet up with the Anavasi version of the route and then all of a sudden you find the dreaded stock fencing. I was lucky to find a way through (over) it, scramble up and over a ridge and see the easier, but longer, dirt road alternative on the other side of a full-flowing river. However, my choice of route seemed to be what the EOS expects you to do, as suddenly, and quite unexpectedly, there was another rare E4 sign on my side of the road on the way down to the river...
Distance:24.7 km
Time: 9 hrs.
Mov av 4.3 km/hr
Height overnight: 605m.(max 775 m.)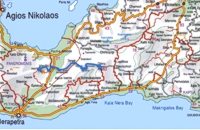 E4 Trail: 04. Orino to Metochi Asari
Richard Ellis walk: Day 4
June 4th - There now followed two 30-plus kilometer days aggravated by the fact that I wanted to summit each range that I passed through - even though there is no strict E4 requirement to do this. So, I set off from Orino by 7.00 am on the clearly marked dirt road which is the pass through the mountains towards the village of Thripti.
Distance:32.2 km
Time: 11.5 hrs.
Mov av 4.2 km/hr
Height overnight: 330m.(max 1,476m.)