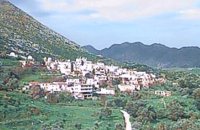 Marathos village
Malevizi, Iraklion
Dóxa (GR: Δόξα) is a pretty village built on a height of 400 metres above sea-level and 20 kilometres to the west of Heraklion on the road to the mountainous Milopotamos.
The historical cave of Dóxa (GR: Δόξα) is located in a short distance from the village of Marathos on the road to Heraklion. It is at a height of 490 metres above sea-level, near a well-known taverna also called DOXA.
The cave has a total length of 50 metres and impressive stalactites and stalagmites.