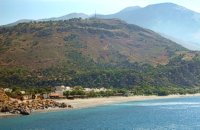 Sougia
Coastal town in Selino, South Hania
at 48.4km (W)
The village of Souyia or Soúgia (GR:Σούγια) is located 75 km southwest of Hania at the southern coast of Crete a little to the east of Paliohora. Sougia is becoming very popular vacation place especially with nature lovers and walkers. There are some ancient sites around and Sougia itself was the port of the ancient town 'Elyros'. There are also quite a few accommodation properties and taverns, a great beach and a small port .
Image Library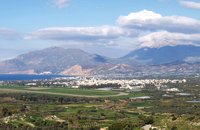 Timpaki town
Messara, Iraklion South
at 48.7km (SE)
The town of Timpaki (GR: Τυμπάκι) is located in the west edge of the plain of Messara, 65.3km away from the city of Iraklion. It is a rich and busy town with significant economic activity especially due to the early vegetables production in the wider area. There are banks, a post office, medical centers, stores, schools, hotels, restaurants, ect to cover both the needs of the locals and visitors.