Anogia is a mountain town of 2500 permanent residents, 55 km away from Rethymnon and 36 km from Iraklion. The name Anogia, means "high place - Ano Gi", is connected with the location that is built, in altitude of 700 m. Hospitable and pleasant residents have to tell a lot of old stories that have marked the tradition and the culture of the village. Anogia is a well-known village historically for its resident's resistance to the conquerors, Turkish and Germans. Today's village has been built three times since it has been burnt down twice by the Turks and once by the Germans.
Anogia has also a great tradition in music. It is the birthplace of great musicians and performers like Nikos Xilouris (Psaronikos), Vasilis Skoulas, and Psarantonis. Traditional Cretan music can be enjoyed at the village in the concerts which are held in the open theatre during summer, as well as in festivals in the first two weeks of August. Moreover, the cultural club of Anogia organises cultural nights and attracts visitors not only from Crete but from other parts of Greece.
The stock farming, the agriculture and cottage industry are the main occupations of the residents. In Anogia you can visit the Folklore Art Museum as well as watch the weaving process and the art of glass manufacturing.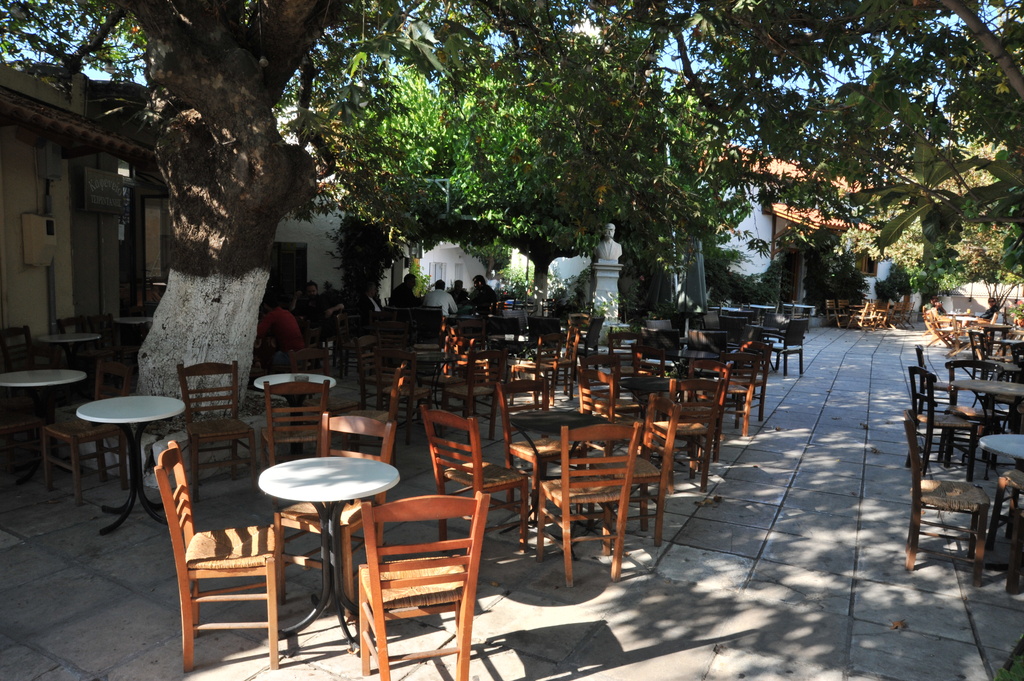 Meintani square
There are many tavernas, cafes, restaurants and also limited accommodation. The square of Agios Georgios is a splendid exhibition of local life and a good place to stop for coffee, buy local cheese and visit the small church of the same name.
The climate is particularly cold, because of altitude, with snowy weather in winter and cool nights during summer.
Useful Information
Bus Schedules:
Everyday to Heraklion (Station B - Chanioporta): 7.30-10.00-14.00-17.30
Everyday to Rethymnon: 06.30-15.30
The bus-stop is located in the Town hall
Banks - Exchange - ATM
ATE bank branch is situated in the center of the village, banking hours from Monday to Thursday at 08.00-14.30 and Friday at 08.00-14.00.
Medical Care - First Aids
The Health Centre of the village operates 24 hours daily, which offers also an ambulance.
MUNICIPALITY OF ANOGEIA
Phone : 28340 32500
Fax : 28340 31380
email : info@anogeia.gr
P.O. 74051
HEALTH CENTRE
Phone : 28340-31208
URL : http://www.hc-crete.gr/ky-anogeia
PHARMACY
: Phone: 28340 31232
POLICE DEPARTMENT
Commander : 28340 32550,
Fax. 28340 31206
Officer in Charge: 28340 32553