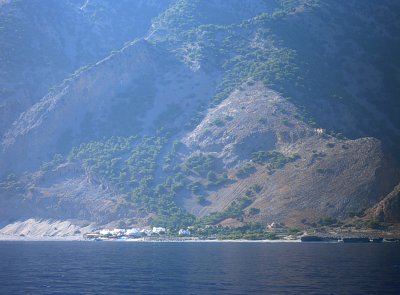 Agia Rouméli (GR: Αγία Ρουμέλη) lies
where the famous gorge of Samaria ends
, at the southern shores of Sfakia province right below the majestic White Mountains.
Its a small village with only a few permanent inhabitants, occupied with goat raising, beekeeping and tourism. The village is getting busy during the summer season due to the visitors coming down the Samaria Gorge, and waiting for the boat to take them to Sfakia (Hora) or Paleohora.
Te only way to get to Agia Roumeli is on foot - Hora Sfakion is about 7 hours walk from Agia Roumeli, or by boat from Hora Sfakion, Paleohora and Sougia.
Facilities
Agia Roumeli is a remote and rather isolated place with no nightlife nor entertainment options, but, for many people who decide to spend a few days here this is one of its many charms. In the morning and late in the afternoon, when the gorge walkers have left, the place gets relaxed an quiet.
There is a good choice of accommodations, hotels, apartments and rooms to let and a some restaurants, taverns and kafeneions.
There also some stores and mini markets.
The ferry schedules to Loutro - Sfakia and to Sougia - Palechora are frequent every day during the summer season. The ferry to Gavdos island makes a stop at Agia Roumeli as well.
The Beach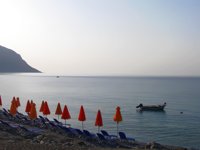 Th beach with fine pebble and crystal clear water is right in front of the village. Umbrellas and sea beds are available close to the dock. In the midday hours it may get crowded from the gorge walkers but as it is long enough, it takes only a few minutes walk for somebody to reach a peaceful spot and those who enjoy snorkeling will find the west end of the beach very interesting.
An other option for swimming is to take the path, along the shore, to the east beach or further to the beach of Eligas (GR: Έλιγας) and even further to the beach of Ágios Pávlos (GR: Άγιος Παύλος) with the old Byzantine church dedicated to Saint Paul.
History
The village of Agia Roumeli was originally situated a little inland, right at the exit of the gorge but in 1962 it was abandoned and was relocated to its present location at the coast. There are still ruined houses that can be seen.
The information office
of the Gorge authorities is housed in the old school.
Agia Roumeli was also the site of
the ancient city Tarra (GR: Τάρρα)
a famous cult place, that flourished from the Classical to the Roman times.
At the western bank of the river on the ruins of a n ancient temple (probably of Apollo) was built an early Christian Basilica that was later converted to the present church of Panagia (Our Lady)
In the village there was excavated part of the cemetery of the ancient town.